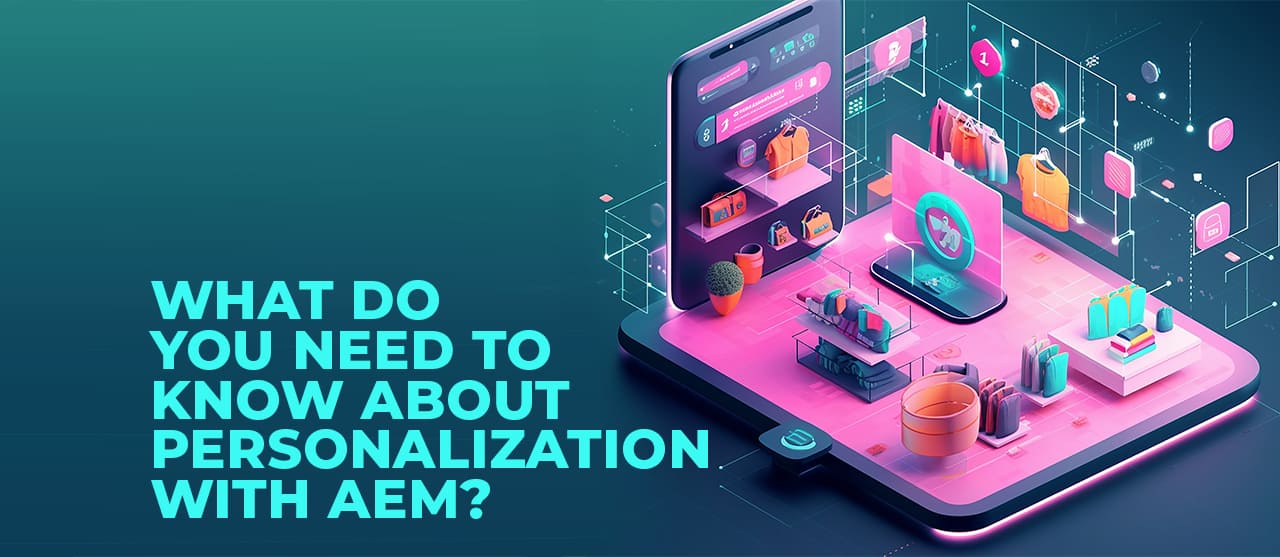 There are multiple ways to reach tech-savvy customers. Yet, the core of engagement should be authentic and consistent. This consistency is powered by a reliable CMS that allows the business to streamline content management.
AEM, also known as Adobe Experience Manager, is a very popular CMS in the eCommerce industry for its effective website content management. AEM is a part of Adobe Experience Cloud, which has an array of digital solutions like Adobe Analytics, Adobe Campaign, Adobe Target, Adobe Commerce Cloud, etc.
One of the reasons why AEM is so successful in the global market is because of its ability to facilitate high-end personalization. To that end, this blog discusses how AEM offers personalization and how this personalization benefits eCommerce sites.
How Does AEM Help With Content Personalization?
According to a report, 54% of retailers accepted that product recommendations are the key driving force of average order value (AOV) in customer purchase.  While most brands try to offer customized digital experiences using behavioral analysis, they have to cater to multiple devices and screens for enhanced user experience and reach. Providing a personalized customer experience through multiple touchpoints is a far more challenging endeavor.
With Adobe Experience Manager, this journey becomes easier. Brands can now connect all the touchpoints in the customer journey, delivering a more personalized experience. AEM helps marketers to link customer profiles across many channels, providing more insights. However, establishing a personalized AEM customer journey isn't that straightforward.
Establishing The Framework For AEM Personalization
Let's discuss the best practices of creating personalization with AEM.
1) Who Are Your Audiences?
The first step is to understand and segment the audience. This entails developing profound comprehension of whom you are personalizing the eCommerce site for. The understanding can be based on the target users' location, income, age, gender, etc. Depending on how you segment your audiences, you can categorize your products or service requirements too.
2) What Do You Want Your Audiences To Experience?
Consider what you want your audiences to see. For instance, if you have a landing page highlighting a certain fashion argument popular on the East Coast, you might want the page to be directed to your New York or Boston customers, catering to their needs. This is where you work on the relatability factor. It can be an offer like a sale or content like a welcome email, or an email with offers and promotional content customized for specific users according to their choices. 
3) How To Categorize Your Audiences?
ContextHub is the personalization tool for AEM. You create the attributes to determine the audiences. There may be attributes available in cookies, subscriptions, local storage, etc. eCommerce management service providers can customize the ContextHub to notify the system where to look for these points. Loading your pages in the AEM determines if the end-user belongs to the targeted audience.
4) How To Create Experiences For Your Audience?
Once you have all the components for the Activity, you create the experiences. Experiences are content variants that you show to a particular set of audiences based on different criteria. Personalized content creates unique experiences for your users. 
How Can eCommerce Sites Reap The Benefits Of Personalized AEM Integration?
Many eCommerce brands opt for AEM integration due to its immense flexibility and ability to personalize content. To that end, here are some of the most significant benefits of AEM integration in eCommerce sites:
1) Get Real-Time Product Updates
For eCommerce businesses, it is common to have sales and offers on the website for most of the year. AEM makes this process seamless. With AEM, you can add any section on the website, and it takes very little time to appear on the channels, including marketplaces.
2) Better Asset Management
Thriving businesses need to have a proper asset management system. With the AEM DAM system, large companies can manage millions of assets without any hurdles. This means the team can effortlessly search, drag, drop, publish, or save content and even conveniently distribute it. As such, the added stress of storage spaces is warded off.
3) Build-In Analytics For Data
AEM offers tools like Adobe Audiences Manager, Campaign, Adobe Target, etc. According to a study, 3 out of 4 marketers rely on data analytics for their campaigns.
eCommerce organizations can easily configure the information businesses need to collect from their target audiences and plan a relevant marketing campaign. With AEM, enterprises get the additional support of data and predictive insights to plan customer journeys.
4) Convenient Marketing Campaigns
AEM makes designing a marketing campaign a smooth ride. Businesses don't even need to explicitly call developers to create a PWA. Marketers themselves can create experience pages for a specific product or service. They can drag-and-drop interfaces of product teasers without any coding knowledge. AEM also helps organize different products on the display board. This makes marketing campaigns independent and quicker for eCommerce brands.
5) Compatibility With Adobe Commerce
AEM is compatible with Adobe Commerce, earlier known as Magento. It provides a much-needed seamless experience for businesses wanting to enhance their digital presence. eCommerce brands now choose Adobe Commerce as their backend operation system and AEM as the front end. This ideal combination provides users with the best commerce, marketing, and content experiences.  
6) Concluding Thoughts
Undoubtedly, customers want a consistent digital experience with brands, something that brands can cater to with effective personalization. Favorably, AEM helps businesses with collaborative tools to deliver a personalized and consistent digital experience to consumers. It's a great solution that has brought content management and digital asset management together. 
In essence, AEM integrates content intelligence with AI-powered tools, making the shopping experience faster, better, and customized. With it, marketing and IT work in parallel in the context of designing, developing, and delivering a personalized digital experience to millions of customers worldwide. Digital solution providers like EnFuse help you leverage the power of AEM to create compelling customer experiences. Connect with us to get ahead of the competition.