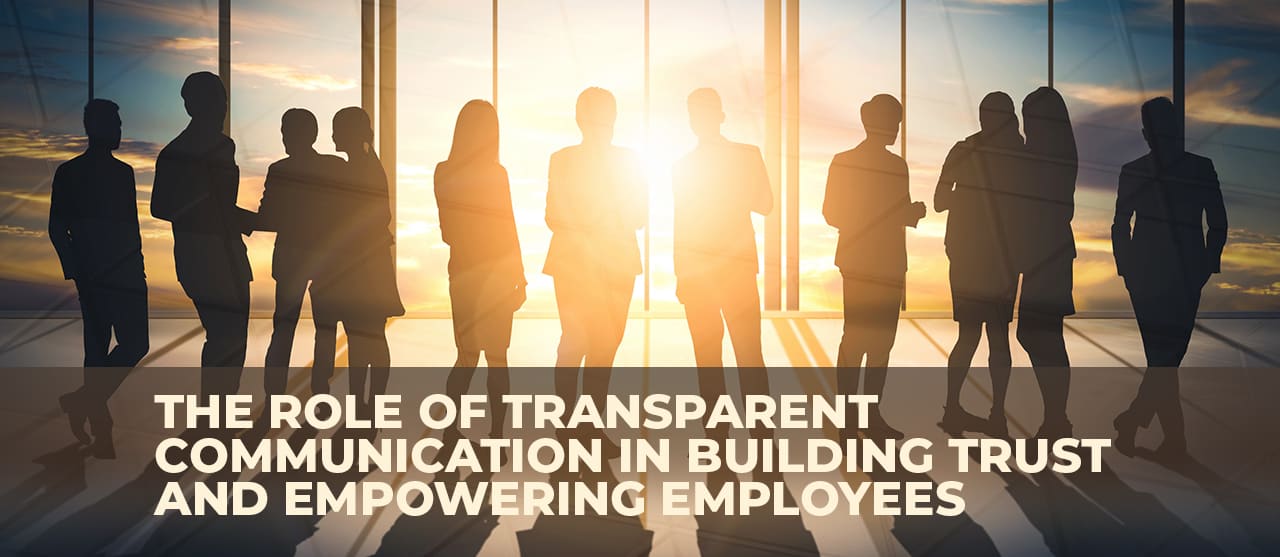 In the past few years, many work culture-defining terms, such as "The Great Resignation," "Absenteeism," "Quiet Quitting," etc., have emerged. This has made leaders consider and reconsider their efforts in maintaining good employer-employee bond, as they aim to understand what today's employees are looking for.
According to a McKinsey report, more than 40% of employees said their employers had not communicated a vision for post-pandemic work. These individuals, who had no idea how to proceed at their workplace, whether working from home or on-site, were concerned about their future.
Thus, we realize how communication, and more specifically transparent communication, aids in the development of trust within the teams and the empowerment of employees. Another survey found that 50% of participants thought frequent communication made employees feel more connected. And what does this connection do? It fosters trust and boosts productivity.
The Importance Of Communication In Empowering Employees

1. Helps In Trusting Leadership
Communication is one of the most critical skills for any manager to develop in order to become a great leader. Employees are influenced by a visionary leader who can enlighten them and show them the bigger picture in the longer run. This can only be accomplished by communicating what is expected of each team member and also how their individual contributions can lead to achieving the overall goal. 
This communication channel assists employees in trusting the vision and the leader along the journey. Of course, it's an excellent way to make employees feel empowered in their own capacity, as they consider themselves integral to a business's operations, and rightly so.
2. Better Engagement And Productivity
According to a Gallup report, low employee engagement can cost the global economy more than $7.8 trillion. This productivity statistic can be challenged with the help of right internal communication channels and transforming disengaged employees into participating assets. 
Including an employee in all communications leads to clarity, trust, and significantly increased productivity. Employees who feel valued, heard, and appreciated at the right time will give their all and even more if they are actively engaged and enjoy their work.
3. Lower Employee Turnover And Attrition
Today, employees are becoming more aware of what works and what doesn't for them in the workplace. With three generations working together, the workplace will most likely need to provide more than just remuneration to hold worthy employees. A 2021 survey found that 57% of knowledge workers were willing to look for new jobs in the coming year.
The reasons for this can range from a lack of flexibility to the search for better opportunities. This gap between employee and employer can be bridged through open communication and empowering employees to perform better without "quiet quitting." Leaders can only solve this problem through effective communication, lowering the likelihood of employee turnover.
How To Help Employees Feel Empowered Via Transparent Communication

1. Active Listening
It's a common misconception that everyone is born with the ability to listen effectively. A report clearly indicates that an average person with mediocre or poor listening skills will not retain more than 50% of the conversation immediately after it is over. After 48 hours, the figure drops to 25%. 
Leaders who listen will attract employees who participate. Every organization or team can feel empowered if there are open channels of communication between horizontal and vertical hierarchical models. This nurtures trust within the team because everyone feels heard and valued, which naturally increases participation.
2. Feedback Culture
A feedback culture operates across the hierarchy, with feedback being taken and given by all team members. This is an excellent way to ensure that employees feel empowered to speak up and discuss issues without the fear of designations or hierarchy. This transparent communication model of a to-and-fro feedback system is an excellent way to demonstrate that the employee is trusted and is in a safe environment, leaving them feeling empowered.
3. Collaborative Teams
A great team produces great results. Working in a collaborative team or with a collaborative leader is critical for employees. According to a report by the Queen's University of Charlotte, three out of every four employees agree that teamwork and collaboration are extremely important parameters for them.
86% of managers are also looking for employees who have or demonstrate teamwork abilities. Building collaborative models can assist employees in taking ownership, nurturing trust, and communicating openly, making them feel heard and empowered within the organization.
At EnFuse, we believe in empowering and encouraging our employees to be a part of the team to achieve the larger end goal. Our critical projects can only be completed with a high-functioning team that takes ownership and never hesitates to express their opinions. If you want to be a part of an organization where the culture is based on open communication and trust, please visit our careers page and apply for an open position that suits your interest.