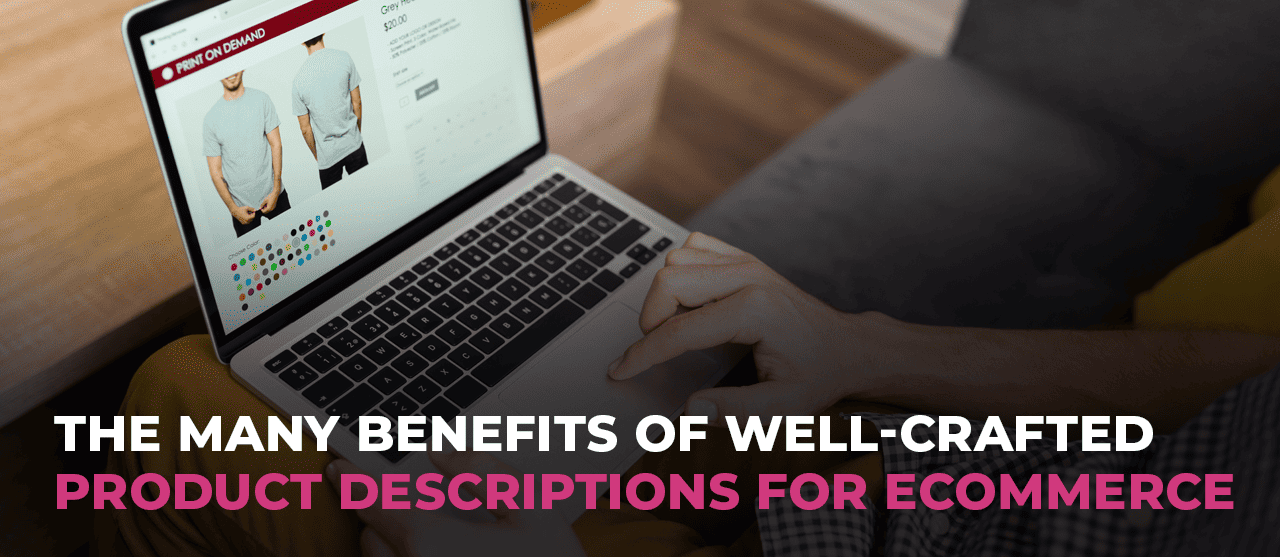 How does a customer land on any eCommerce website? Typically as a result of online promotions, word of mouth, social media, etc. But how can online retailers ensure that shoppers actually engage with their online store and ultimately buy something?
Some of the top factors tend to be:
An intuitive eCommerce site design
Easy navigation around the online store
Effective and easy-to-understand product descriptions
One of the most often overlooked aspects is having well-crafted product descriptions, which can establish early confidence that the product is precisely what your customer is shopping for. Conversely, unclear or confusing descriptions as well as monotonous or repetitive product content can erode confidence and also frustrate and disengage shoppers who will remember their poor experience and may never return.
Here are some interesting stats:
As many as 87% of consumers rate product content as extremely important when buying something online.
Product descriptions are among the most desired (76%) elements of information that consumers seek about products, followed by user reviews and images.
Wondering what goes into writing a good product description? Below are a few of the most important features.
Features of Well-Crafted Product Descriptions
1. Product Benefits
Most eCommerce brands focus on writing only about product features, and this is where they tend to lose customers. Buyers are definitely interested in knowing the features and specifications, but they are also interested in how the product will help them. One way to write a good product description would be to include benefits alongside each feature.
Here are a few examples:
Low-slung flexible jeans to wear your tops tucked in.
Box of treats to reward your pet's good behavior.
Original inner lining for a uniquely comfortable feel.
2. Appealing to Your Customers' Imagination
While shopping online, potential customers cannot touch the products and must rely on written descriptions as well as product images and videos. Including words that engage their imagination is a must when writing persuasive product descriptions. For luxury products, imaginative words can also help justify their high price. Here is a list of powerful words from Jon Morrow that can be used to stimulate the shopper's imagination.
3. Increase Readability With Bulleted Points and Formatting
Effective product descriptions are easy to scan for shoppers "in a rush." Try to list product features using bulleted points or short paragraphs. Limit the number of bulleted points to improve readability and only include product-specific features in the list.
Benefits of Product Descriptions
So, how do effective product descriptions benefit online retailers?
1. Achieves Higher SEO Rankings
Every search engine works like a web directory. It tracks thousands of websites against a search term and then ranks them accordingly. The search algorithms tend to evaluate the uniqueness, originality, and relevance of a web page. Original and SEO-relevant product descriptions can help improve your SEO ranking.
If you want your online store to be listed on the top of the search engine results page, make sure you use accurate, relevant, unique, and original product descriptions.
2. Increases Organic Traffic
With a higher ranking on search engines, your eCommerce site will attract more organic traffic. You can improve the organic traffic by including relevant SEO keywords in the product description on every product page.
The product descriptions you receive from manufacturers do not differentiate your store from your competitors and can actually hurt your online business in the long run. More specifically, Google prefers unique and original product content when ranking eCommerce web pages.
3. Builds an Emotional Connection With Shoppers
Well-crafted product descriptions can help to emotionally connect with your potential customers. For instance, if you are in the business of selling expensive watches, product descriptions can convey a sense of "luxury," "status," and "class."
You can also use product descriptions to build a compelling story that can engage and connect with your customers. For example, the Whirlpool home appliance brand launched the "Care Counts" program to use the story of "American children missing school" to connect with consumers.
4. Paints a Mental Picture of the Product
Mental imagery can create expectations, improve persuasion, and influence a consumer's attitude, mood, and behavior. When products cannot be experienced physically, online shoppers can use product descriptions to form mental images of themselves using the brand or product.
Here is an example of an appealing product description at J Peterman Company.
5. Reduces the Cost of PPC Ads
One study found that revenue from Product Listing Ads (PLAs) has grown by 52% year over year. The effectiveness of PLAs can be improved with specific and relevant product descriptions. This can also reduce the costs incurred on PPC ads because businesses that create unique product content can use that content to write better copy for PPC ads.
When the quality score of your PPC ads is high and the ad text is relevant, you will spend less money and provide a better experience to your customers.
6. Eliminates Duplicate Content
Well-researched and targeted product descriptions help to avoid duplicate content. This, in turn, also helps brands and retailers rank higher on search results. The same product content on multiple web pages creates competition within pages and reduces the likelihood that any of them will rank in search results. For the best results, ensure that there is no duplicate content in your eCommerce store by using well-crafted descriptions.
7. Decreases Bounce Rates
The average bounce rate of eCommerce sites is 45.68%. A high bounce rate means that most shoppers do not purchase from the online store. While a high bounce rate could be due to various reasons, good product descriptions can help reduce this while also improving conversion.
8. Drives More Returning Visitors
When consumers visit your website, they are looking for quick and accessible information about the available products. Product descriptions can provide them with detailed product information. This can contribute to increasing the rate of returning (or repeat) visitors. Added product content in the form of case studies, FAQs, articles, and customer testimonials also increases the consumers' trust in your brand and confidence in their buying decision.
9. Lightens the Load on the Customer Service Department
Accurate product descriptions help you manage your customers' expectations and reduce the number of customer complaints. For example, a customer complaint like an "unsatisfactory product" can be a recurring issue and problem for the customer service department.
On the other hand, effective product descriptions can convey all necessary information, thus reducing the opportunity for expectations to be misaligned.
10. Diminishes the Number of Exchanges and Returns
One common reason cited by customers for returns/exchanges is "product not as described." According to a Barclaycard survey, 57% of retailers feel that dealing with returns hurts day-to-day business operations.
Write product descriptions that contain all the relevant information such as product size, weight, and specifications that a customer might need to know. With complex products, including a "buying guide" can also help to improve shopper confidence and reduce returns.
Conclusion
Product descriptions on your eCommerce site can help you convey product-related information to your online shoppers. Short and crisp product descriptions can be used to engage your shoppers and improve conversions.
As a leading provider of eCommerce Services, EnFuse Solutions is helping online businesses achieve higher conversion rates with accurate and complete SEO-enriched product descriptions. Are you looking for help to improve your product descriptions and content? Connect with us to learn how we can help you succeed.