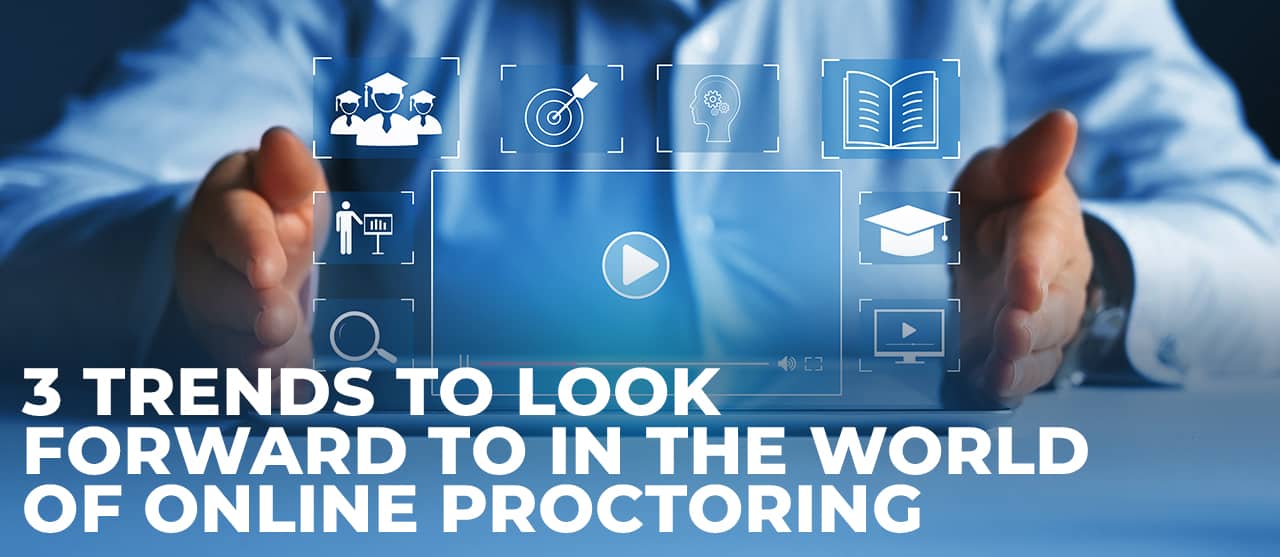 The era of "remote everything" has arrived and isn't just limited to remote working. As more and more college students enroll for remote lessons, higher education institutions are seeking new and improved ways to supervise exams, tests, and other assessments to reduce stress.
At the same time, organizations are looking for ways to streamline recruitment, assessment, and compliance training, so they can improve experiences for their workforce. Regardless of the use case, safeguarding the integrity of exams, assessments, and certifications demands the adoption of the latest trends.
Read on as we shed light on the top 3 trends to look forward to in the world of online proctoring.
Online Proctoring Trends In 2023 And Beyond
Online proctoring is increasingly being used by businesses, schools, and other educational institutions to conduct secure training and enable remote learning. Through seamless identity verification, online proctoring solutions help prevent dishonest behavior while also securing devices to eliminate access to restricted materials and monitor behavior during assessments.
What's more, because such solutions can be seamlessly integrated with websites or browser-based applications such as learning management systems, it gives enterprises the freedom to securely administer exams online – anytime and from anywhere.
Be it an educational institution, a distance learning organization, or a business that needs to enable certifications and pre-employment assessments, they must be on top of the latest trends to enhance the candidate experience. To that end, here are 3 trends to consider embracing in the world of online proctoring:
Trend 1: AI-Enabled Proctoring 
In 2023, employing AI to enable world-class automated proctoring will be a big trend companies will be embracing to deliver consistent results. In addition to monitoring test takers through their webcams, AI will enable businesses and educational institutions alike to verify test-taker identity and continuously detect and flag suspicious actions. 
AI proctoring software will help secure the learning environment by using voice and facial recognition technology to monitor irregular activity. From identifying people in the background to monitoring the usage of mobile phones, AI will help ensure the integrity of exams and assessments while also being less intrusive than a human, in-person approach. 
At the same time, AI algorithms will also help build and furnish performance reports for trainees or learners, effectively handling all data for compliance and regulatory purposes. The technology will also automatically alert administrators, allowing them to intervene in the session in real-time. Businesses would further use AI to sanitize the environment by disabling additional browsers, tabs, search engines, and ports to restrict access to unauthorized resources.
Trend 2: Human Intervention 
In the last couple of years, automated, AI-enabled tools have witnessed widespread adoption in the world of online proctoring. But that doesn't mean you can completely do away with human intervention. Proctoring still requires human-centered capabilities, which is what 2023 will witness. 
In 2023, hybrid proctoring will be extremely popular, where in addition to using automated tools, certified professional invigilators who possess the ability to assess examinations during live sessions or by reviewing recordings will also be involved. These assessors will provide a much-needed additional layer of supervision to every exam, helping businesses and institutions flag instances of misconduct. 
Leveraging innovative technology, these resources will continuously and meticulously monitor online assessments and exams, saving time and reducing the burden for administrators and test-takers. What's more, a two-way chat between test-takers and human proctors will enable an engaging and interactive experience, further improving proctoring outcomes.
Trend 3: Flexibility And Customization 
In the coming year(s), organizations will also seek high flexibility and customization levels. Online proctoring platforms that offer an array of configurable tools and are fully customizable to meet various requirements will enable organizations to drive better results. 
Highly customized and enterprise-level proctoring solutions that can be integrated with any app, test delivery platform, or website will help meet a variety of use cases, right from college exams to corporate training certifications and government appraisals to pre-employment assessments.
Similarly, highly flexible platforms will help deliver a self-service-oriented experience, making it easy for candidates to access content and undergo assessment via convenient scheduling and strong support services. For instance, companies that need fully automated identity verification can opt for that capability and eliminate the need for a live proctor to intervene in real-time.

At the same time, those who need a trained proctor to assess and review recordings can enable the feature to detect suspicious activity and report it to the institute/organization with supporting evidence.
Making Remote Assessment A Productive Reality
The growing adoption of remote work, distance courses, and online education has brought online proctoring tools into the spotlight. Embracing the right tools and staying ahead of the latest trends can enable businesses and educational institutions to offer uninterrupted and seamless online training and assessment services.
At EnFuse Solutions, we offer a range of highly secure online proctoring services along with exceptional IT support for anyone looking to augment their training and learning experiences.  Contact us today to learn what makes us the perfect partner and turn your remote assessment into a productive reality – both for your candidates and your administrators.