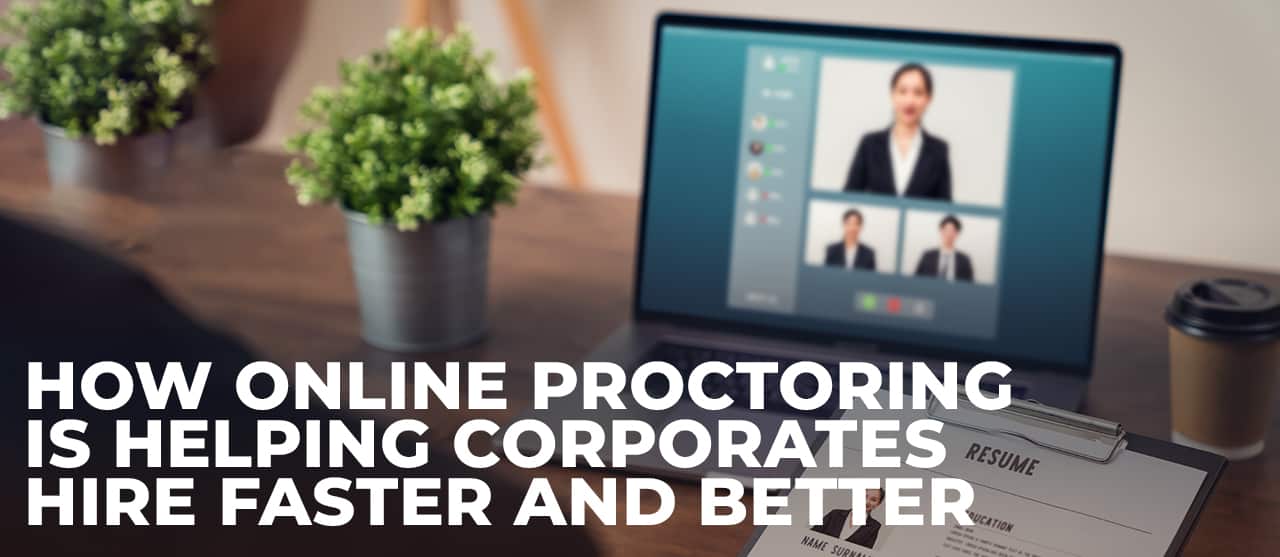 Social distancing has made us change the way we work and even how companies hire the best talents. We have now moved from the "typical" office environment to the "work-from-home" mode. Hiring has moved from office-based hiring to online talent acquisition. Hiring managers are now using online proctoring methods for evaluating any candidate's competencies. As online or virtual proctoring is enabling online learning, this assessment method is also entering business environments with more HR managers adopting it to evaluate their candidates.
Among the popular ones, companies like Amazon, Cognizant, and Honeywell are adopting online proctoring to meet their recruitment needs. According to a Gartner survey, nearly 50% of companies will continue to allow remote working even in the post-pandemic phase. This is encouraging news for online proctoring, whose global market was valued at $354 million in 2019 and is expected to reach $1.18 billion by the end of 2027.
How can online proctoring improve the corporate hiring process? Let's delve into that.
Why Opt For Online Proctoring?
Businesses can adopt online proctoring services to make their hiring process more efficient and find the right people. Using live proctoring, job applicants can now demonstrate other skills such as their ability to perform under pressure and time management, which cannot be validated from their resumes. Further, with remote working becoming the norm, companies are not bound by geographical constraints when looking for the right talent.
At the same time, image-based proctoring tools can be used to verify the identity of every candidate. Online proctoring can also coexist with "traditional" hiring methods. For instance, HR teams can evaluate job candidates with an online proctored test for technical skills while using office-based interviews for the final round of confirmation. Additionally, online proctoring also ensures that there is no collusion or inaccuracy when validating the outcome of the applicant's completed tests.
Let's get into the details of how online proctoring is helping corporate businesses in their hiring process:
1. Remote Vetting Of Job Applicants
With the availability of proctoring tools, more businesses can take advantage of the remote vetting of job applicants. Apart from ensuring safety, remote vetting makes the overall candidate screening and hiring process fast and efficient. Further, online proctoring eliminates the constraints of geographical boundaries and time zones and enables companies to choose the best candidates from a wider pool of talent.
This overcomes the pre-pandemic constraint of companies preferring candidates to be physically present during the entire hiring process. Besides, remote vetting also reduces recruitment-related costs for companies, while job applicants are more likely to perform and communicate better from a stress-free and comfortable home environment. 
2. Large-Scale Campus Hiring
Each year, technology and marketing companies hire a lot of candidates from college (or university) campuses, which are both cost- and time-intensive. For the right candidates, companies often need to conduct multiple interview sessions combined with written aptitude tests. Adding to that, organizations need to hire the services of recruitment agencies and assign a dedicated team to scout for campus talent. This mode of campus hiring can be time-consuming, repetitive, and frustrating for hiring managers and candidates.
On the other hand, with online proctoring, organizations have the flexibility of scheduling skill tests and interviews in a secured "virtual" environment. "Human" proctors can monitor an unlimited number of campus candidates taking online assessment tests. In the absence of live proctors, recorded proctoring methods can be used to evaluate the candidates after the exam completion.
Effectively, online proctoring offers both flexibility and scalability needed in campus hiring, while optimizing the hiring costs and resources.
3. Verifying The Candidate's Identity
Apart from skill assessment, identity verification of candidates is an important part of the preliminary phase of any corporate hiring and screening process. In the absence of in-person verification, online proctoring can help in identity verification using face recognition tools and voice-over testing.
Besides verifying the applicant's identity, video-based proctoring tools can minimize unfair practices during the assessment by tracking any irregular or suspicious behavior on part of the candidate. For instance, online proctoring can detect the presence of an additional person in the vicinity of the candidate and report the same for further action.
4. Accurate Screening Of Job Skills
Thanks to the focused approach and accuracy of online proctoring, only candidates who possess the required skills and experience, can make it through the initial screening process. As thousands of candidates apply for the same job role (enabled by the one-click job application process), hiring companies to need an effective screening process to carry forward the right candidates to the next round and reject the unsuitable ones. 
Further, online proctoring ensures that all the candidates or applicants for the same job role are assessed through the same screening process without any changes. With online proctoring, companies save a lot of time and energy in candidate screening processes and only have to attend to candidates who fit their required job criteria.
5. Cost-Effective Mode Of Hiring
The traditional model of hiring can be expensive for companies as they have to dedicate resources such as in-person invigilators and physical test centers. Additionally, they need the necessary expertise for designing different types of candidate tests. This can add to the organization's human and investment capital, which could be utilized for other purposes. 
Online proctoring can reduce any company's administrative burden by leveraging the use of digital technologies along with minimum human intervention. Further, organizations can reduce their recruitment costs by hiring the services of an online proctoring service provider, who can manage all aspects of remote hiring at minimal costs. Online proctoring companies provide the test assessment results with supporting documents about a candidate's aptitude and behavior during the entire evaluation process. 
Conclusion
Online proctoring comes with a range of benefits for medium and large organizations that are consistently growing and need to constantly increase their hired talent to maintain their competitive edge. Online proctoring makes the entire hiring process hassle-free by streamlining and automating assessments and also reducing human intervention. 
With added advantages such as reduced hiring costs, accurate screening, and professional intervention, businesses can focus on other important aspects of their business while online proctoring is taking care of their hiring efforts.
EnFuse Solutions has been a reliable technology partner with their clients. Our online proctoring solutions are designed to meet the requirements of both business and educational institutions. Connect with us to learn more about how we can help you streamline your corporate hiring process and help you succeed.