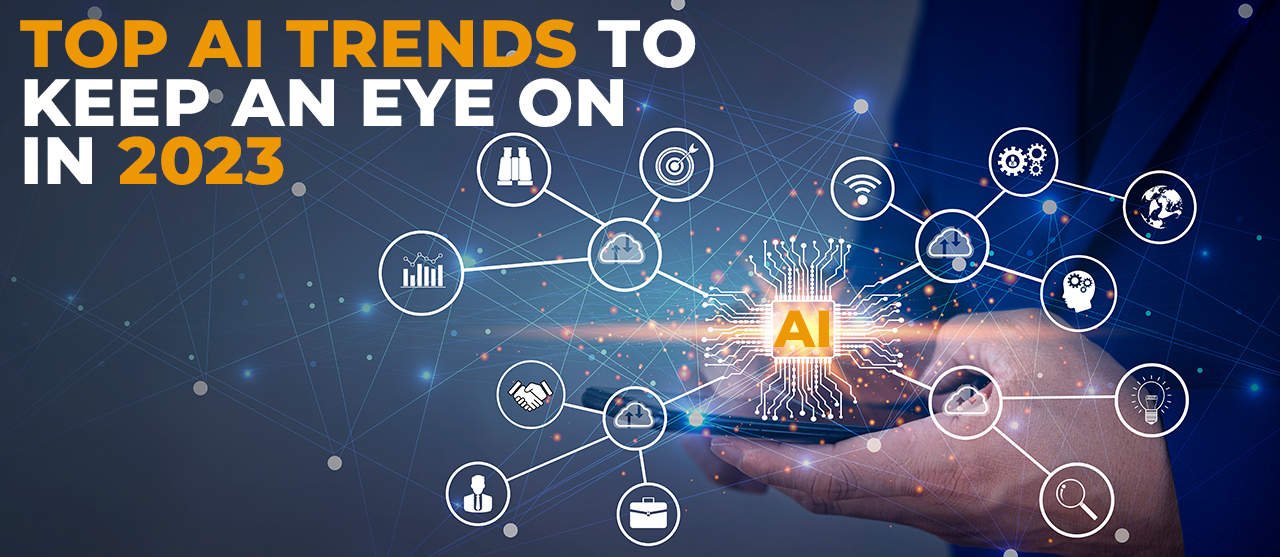 As the vision for autonomous vehicles, precision medicine, and mechanical robots turns into reality, the AI ecosystem is advancing at lightning-fast speed. With the technology steering a fundamental transformation of sorts, organizations must stay abreast of the latest AI trends and evaluate how they can embrace these trends to stay ahead of the game.
The 2023 AI Trends
AI is no longer limited to large corporations or complex use cases. Today, the technology is being embraced across day-to-day operations, from RPA to personalized customer recommendations, chatbots to voice search and smart assistants to predictive maintenance.
The technology is infusing much-needed efficiency into business processes while also allowing organizations to bridge the widening skills gap through the reduction in manual oversight. With the new year right around the corner, let's look at the top trends to keep an eye on in 2023:
Most Apps Will Come Built-In With Advanced AI Capabilities
In the coming year, AI will become increasingly democratized and no longer be an afterthought. The power and utility of AI will be easily accessible to everyone, regardless of their technical aptitude or skill. Most apps and solutions will come built-in with advanced capabilities, so organizations (and users) can make the most of all the latest innovations from the very start – without having to invest time, money, or effort in curating or integrating AI-enabled features.
Predictive text suggestions, intelligent search, image recognition, and voice assistance features will be available out of the box and freely available not just to data scientists but also to citizen users.
Intelligent Data Annotation Platforms Will Be In High Demand
Businesses looking to up their AI game in 2023 will need to embrace highly intelligent platforms to identify and annotate specific data. As AI use cases expand, data annotation and tagging will enable enterprises to pre-process data efficiently and make it more usable for machine learning and AI-based models.
From marking up and labeling data elements to tagging and enriching data, classifying images to analyzing videos, data annotation tools will help create powerful databases and content repositories across different languages and different data formats, including text, images, audio, and video, and meet specific AI requirements.
AI Will Increasingly Be Used To Fuel Hyper-Automation
The pressure on organizations to improve accuracy and reduce error margins is constantly growing. Automation has helped minimize the dependence on humans for mundane and repetitive tasks. However, in the coming year, AI will increasingly be used to fuel the next stage of hyper-automation.
Instead of simply automating a handful of tasks in isolation, in 2023, organizations will exploit AI to automate end-to-end complex business processes, further minimizing human involvement and oversight. Such automation will eventually result in better-performing processes and will emerge as an easy way to bridge the growing talent gap.
Custom AI Training Datasets Will Become Widespread
As AI gets increasingly used by different industries, feeding AI models with the right data becomes critical. Any errors in training data can impact the performance of AI models; therefore, organizations must build custom AI training datasets in different languages for different machine learning models.
Organizations will adopt tools that streamline the meticulous process of generating, annotating and validating a high volume of unique datasets to meet the exact requirements of ML applications. It will help them enhance the quality, accuracy, and reliability of training data and deploy scalable and world-class AI models across unique automotive, financial services, retail, manufacturing, and government use cases.
The Technology Will Further Transform The Hybrid Work Model
The hybrid work model continues to be a hot topic, with employees now seeking high levels of work-life balance and flexibility in how they work and where they work. As hybrid workplaces become more diverse, distributed, and virtual in 2023, AI will play more than just a supporting role in the coming year(s).
To keep up with the expectations of the hybrid workforce, 2023 will witness AI being used extensively to advance the new work environment, offering much-needed support across engagement, collaboration, workflow management, network, and security.
Ethics And Sustainability Will Be In Focus
As companies look to reduce their carbon footprint, AI will be used to build products, services, and infrastructure in a more energy-efficient way, delivering more sustainable AI. For instance, more and more organizations will leverage technology to detect illegal mining or fishing activities that impact biodiversity, helping the world tackle some of the most pressing problems facing our planet.
At the same time, efforts will be made toward the development of ethical and explainable AI models, allowing organizations to get to grips with eradicating bias and unfairness from automated decision-making systems. Over the last decade or so, AI has become embedded in every aspect of our personal and professional lives.
From chatbots and virtual assistants to automated processes and robotic arms, the AI market is on a roll, with spending on AI systems expected to reach $97.9 billion in 2023. If you want to ride on the wave of this emerging technology, it is important to educate yourself on the latest AI trends and take steps to weave these trends into the fabric of your business for maximum performance and throughput. At, EnFuse Solutions we develop an AI data-quality roadmap that is individually matched to your desired business results.