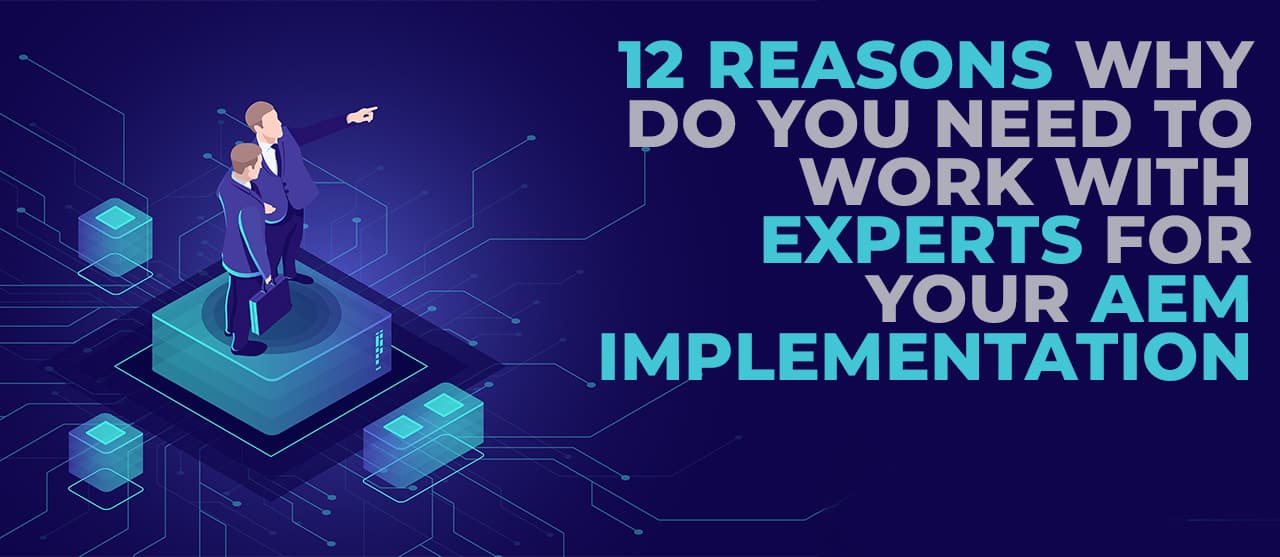 On average, enterprises use 120 MarTech solutions, better known as marketing technology or tools. However, the struggle to deliver a tailored user experience remains undeterred — largely because these tools function in silos. Adobe Experience Manager (AEM) is equipped to overcome this challenge by delivering customized digital experiences to buyers efficiently on several channels. Since omnichannel buyers spend more on buying in-store and online compared to customers using single platforms, it makes sense to implement AEM.
What Is Adobe Experience Manager (AEM)?
Adobe Experience Manager is one of the most reliable and robust content management systems (CMS). It helps manage digital assets, high-traffic websites, and mobile apps. It also allows businesses to organize their digital assets to deliver stellar user experience across multiple digital touchpoints. Using AEM, businesses can nurture an interactive online presence, fostering long-lasting customer relationships and driving profitability.
Features Of AEM
Adobe Experience Manager allows businesses to manage online content and brand assets across various channels and devices. Its cloud-native service allows businesses to manage their website safely without expensive upgrades. Here are some key benefits of AEM:
AEM forms enable businesses to gather essential user information to deliver end-to-end onboarding journeys tailored to suit the needs.
Digital asset management provides an immersive experience to users across different channels, including automated workflow.
The AEM project dashboard provides an overview of the current campaigns to give businesses key insights into the status of the project, its goals, and outcomes.
Businesses can leverage the platform to implement web pages and digital assets quickly and easily.
It also simplifies the design, development, management, and optimization of websites and mobile applications in different languages.
Why Should You Collaborate With AEM Experts?
Adobe Experience Manager is one of the most powerful yet complicated content management systems. To ensure you get the maximum benefit of the platform, hiring AEM experts to advise you on implementing the system and leveraging the features aligned with your business is essential.
From building a solid foundation for the project to the final execution and optimization of investments, collaborating with an expert can save businesses time and money. It also saves maintenance efforts in due course of time.
Here's a more profound elaboration of the reasons to work with experts for your AEM implementation:
1. Consult & Implement:
A consultation allows the expert and the business to understand unique needs and tailor an implementation plan adhering to the requirements. As a result, businesses are armed with digital assets to deliver a superior digital experience to users.
2. Custom Design:
Experts are also proficient in creating custom AEM designs aligned with business objectives. From AEM solution design to implementation, consultants consider your feedback to build a custom design, make changes, and seek approval. They even come up with prototypes to give you a better understanding of the design before the final implementation.
3. Perceptive Experience:
Adobe features the intuitive Touch-Enabled UI that delivers a seamless authoring experience across several devices. Experts partner with content authors to easily create fragments of content and distribute them across different channels. This ensures a coherent user experience.
4. Cloud Integration with AEM-Adobe Marketing:
Experts help in integrating AEM with Adobe modules like Site Catalyst, Social, Test & Target, Scene 7, and Audience Manager to get the most out of Adobe solutions.
5. Platform Configuration in Enterprise Tech Stack:
Experts can also guide you to introduce new technologies like JCR, OSGi, Sling, and Oak as your AEM tech stack. Besides, they can help configure the right enterprise tech stack depending on the business objective and the targeted cohort.
6. Digital Experience in Design:
AEM also has plenty of features that allow businesses to deliver a superior digital experience to further increase customer retention and conversion. Professionals work with a team of design experts and user experience whizzes who assist AEM CMS integration in ensuring it conveys the business objectives.
7. Data & Content Migration & Setup:
Migrating to the AEM involves a series of steps. Having professional assistance can help you to move from SharePoint, Sitecore, Joomla, Drupal, Vignette, Alfresco, and any other custom CMS to AEM without losing data. Experts also help take on custom Adobe CMS integration with third-party platforms and popular software like SAP, Microsoft, Salesforce, and others.
8. AEM Support & Maintenance:
You can trust an expert for complete support and maintenance of all AEM-related services. Technical support, for instance, is a primary requirement that demands expert intervention. Likewise, device monitoring expertise is imperative. Moreover, experts can assist you in creating an interactive omnichannel experience for customers.
9. UX & SEO:
AEM scans content constantly and assigns metadata and tags automatically to the online assets. Here, collaborating with experts can bode well to uplift your SEO and subsequently improve your site ranking and adherence to web vitals. The collaboration further helps keep up with your platform's user experience.
10. Application Security:
Experts can detect vulnerabilities with AEM security by scanning the CMS. They are trained to deploy the best practices of AEM security into the software to ensure teams can prevent, detect, and eliminate anomalies from transpiring. Favorably, Adobe partners with leading researchers and software development organizations to manage the latest cyber threats and vulnerabilities.
11. Performance Testing:
Performance testing is a major highlight of AEM. With experts for assistance, you can leverage the Tough Day tool by Adobe to generate AEM instances, which further collect performance data. The engineering team uses this tool for load testing AEM products. Follow a guided approach to get the most out of AEM performance testing.
12. Integration with Other Applications:
AEM integrates well with cloud services and third-party applications. An expert can help you integrate your CMS to track content activities and perform data analysis from anywhere during the journey. Adobe's Commerce Integration Framework (CIF) offers flexible integration with multiple eCommerce platforms. It also ensures that customers get correct product data at vital touch points across every stage of the journey.
Conclusion
You can start off with a strong foundation with the right AEM implementation partner like EnFuse Solutions. Building a relationship with an expert partner with experience in complex AEM implementations will also assist you in narrowing down your risks and mitigating security concerns that increase the cost. At EnFuse, we provide strategic consultation with valuable insights for successful AEM implementation and support post-deployment. Get in touch today!