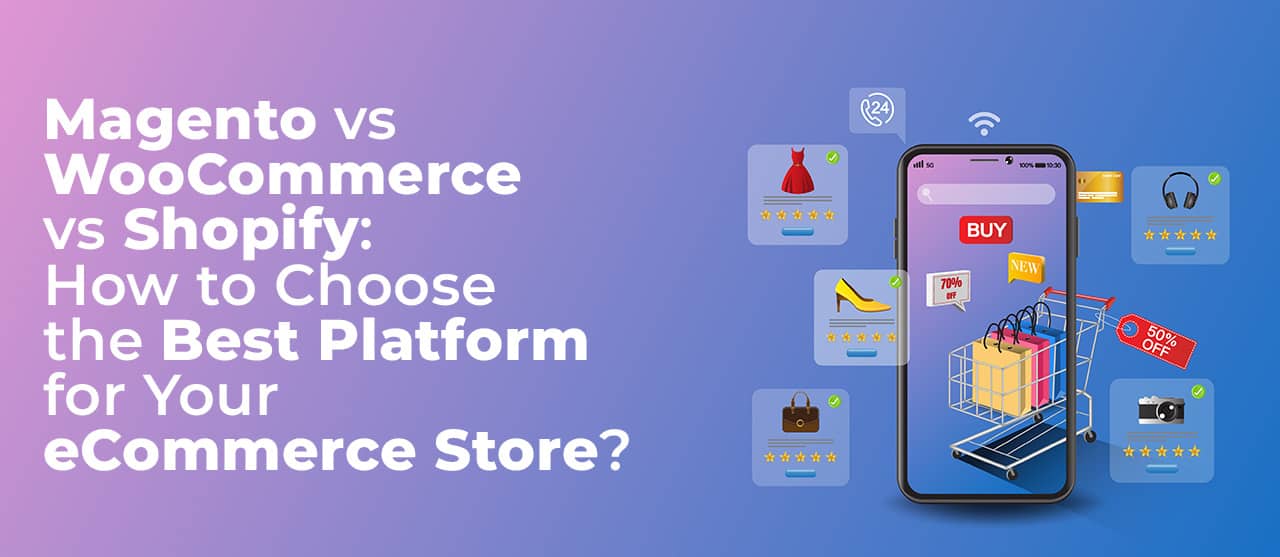 There are more than 2 billion digital consumers globally and the number continues to grow every day. To cater to the growing shopping needs of these consumers, eCommerce platforms are ever-expanding! Online shopping is part of everyday life; businesses are looking to attract customers by offering the best features over competitors. 
To survive in this highly-competitive market, digital business owners must pick the best technology platform to build their online stores. Magento, WooCommerce, and Shopify are some of the most popular platforms that enable the building of world-class online stores.
With each platform offering similar features, choosing the platform that is ideal for your business can get a bit overwhelming. Here's a detailed comparison that should help you make your pick!
Magento
Magento CMS was launched in March 2008 and later acquired by Adobe in 2018. The platform has several interesting built-in features that make it suitable for startups. Magento lets you change languages and currencies, add coupons, and apply discounts for selected products.
The platform provides excellent store functionalities with several extensions and templates. You can customize the Magento platform to make changes to the HTML or PHP code and display special features for your store. The platform also allows you to create multiple online stores and manage them from one admin panel.
Features OF Magento
Running a digital store on Magento is extremely easy. It only needs to be set up with the help of specialized Magento developers with knowledge of PHP, HTML, and cloud hosting. Once done, you can manage bulk inventory with the detailed Magento inventory management system that synchronizes warehouse stock with the online store.
It also offers the following powerful features: 
International purchase and selling using multiple languages, and currencies

A built-in hosting solution to make website integration smooth and swift

Two default themes and 16 pre-made themes with varying prices 

Unlimited customization options allow businesses to modify or create their own themes from scratch

Offers advanced SEO features. Magento 2 provides some of the best SEO features to rank the website high on search engines

Magento 2 provides the support of Magento Open Source and Magento Commerce

A hugely supportive community helps users navigate issues that they may encounter
WooCommerce
WooCommerce is among the most popular eCommerce platforms with millions of users across the globe. It is available as an eCommerce plugin for WordPress and is an ideal solution for those who wish to promote WordPress blogs and sell through those. 
There are customized themes that one can buy for their store and also add appropriate extensions. WooCommerce's built-in features include Google Analytics integration, SEO optimization, geo-location support, and responsive design, among others.
With paid WooCommerce plugins, one can add advanced features such as quick browsing, product comparison, pop-up notifications, different payment modes, desired product listing, catalog and digital asset management, and much more.
Features of WooCommerce
As WordPress is an open-source platform, one can easily use 3rd party extensions and plugins and add tons of interesting features to their online store. It is easy to edit website aesthetics, up your online marketing techniques, understand user behavior, and sell on Facebook with WooCommerce. The other features include: 
Easy adaption to mobile screen shopping 

Unlimited product categories and products

Adjustable rates and taxes

Built-in payment gateways – PayPal and Stripe (other gateway integrations are available for a fee)

Control of stock level and other website data

Compatibility with current themes of existing WordPress website

Excellent SEO features with several SEO plugins 

592+ readymade extensions 

Customer Service and Support options of guides and tutorials make website management easy

Ability to host a website for free without the paid extensions
Shopify
Launched in 2004, Shopify is among the most thriving and preferred eCommerce platforms globally. This platform allows you to set up a functional eCommerce store with extreme ease. The platform offers a subscription-based basic plan that starts at $29 per month. 
Shopify comes with amazing options for you to create limitless merchandise and have unlimited file storage. It enables the integration of Google analytics, social media platforms, and discount codes, and has multiple extensions. With 24×7 support, Shopify is ideal for creating custom solutions for small businesses.
Features of Shopify
Shopify comes with a ready-to-use working structure of an online store and is good for small-time start-ups. Pre-made designs eliminate the need for a graphic designer and are good to go if you don't want to invest in an expensive custom-made online store. The other extremely useful features include:
Responsive templates that are useful to enable mobile shopping

70 premium themes for customization 

Several online payments option 

Allows you to sell your products on Facebook

Calculates real-time shipping costs regardless of business location

Embedded analytics and reports to track sales and website traffic gives customer insights

Allows you to build customer profiles and re-target existing clients with tailored offers

Good SEO options for high SERP ranking

24×7 customer support is immaterial of the plan you have chosen 

Community of users and help centers 
Conclusion
There is no one-size-fits-all when it comes to choosing the right platform for your eCommerce business. All these platforms mentioned here do an excellent job when it comes to providing powerful, flexible, and customizable solutions for online businesses.
But it is wise to decide based on your specific business needs, budgets, technical expertise, and business goals. If you need help in creating a robust eCommerce strategy, talk to our eCommerce experts or Contact Us to learn more!