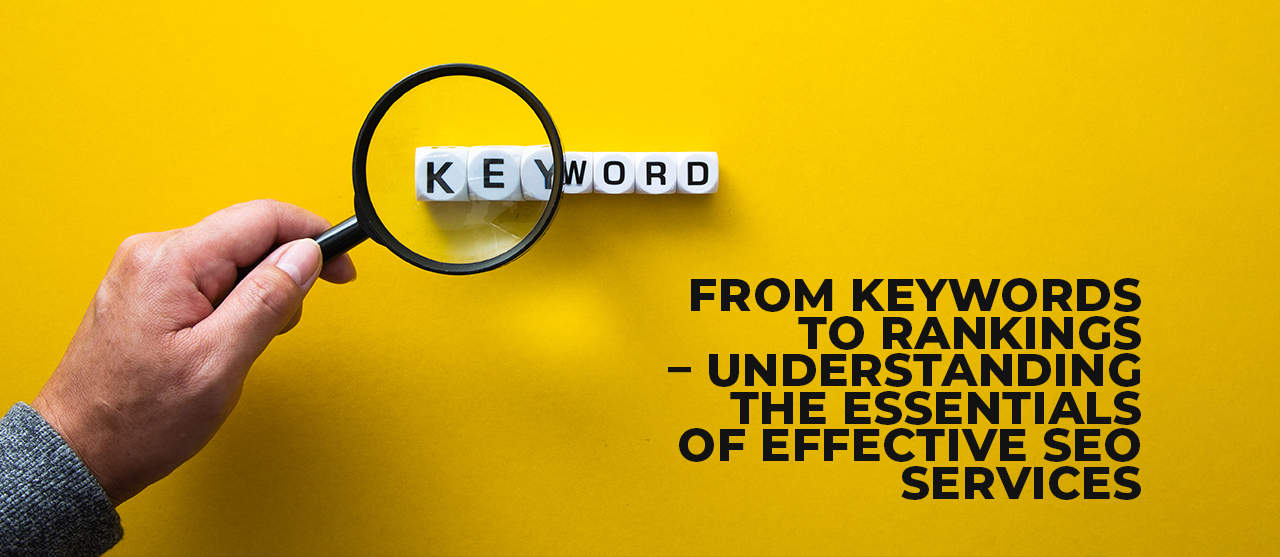 For a long time now, it has been stressed that 75% of people don't bother to try and look past the first page of their Google search results. Of course, creating content that is helpful and useful to users is incredibly important; however, there's a lot that goes into realizing an effective SEO strategy.
SEO is a non-negotiable for your website's success in 2023 and beyond. When done right, it can increase your website's visibility through organic search engine ranking and boost your lead generation strategy by driving more qualified visitors to your website.
But SEO is so much more than just ranking high. There are facets around website credibility, authoritativeness, and trustworthiness that also need consideration. But sorting through these many aspects can seem daunting — precisely why this blog lays out the essentials of effective SEO services that businesses should look for.
The Essentials Of Effective SEO Services

With the proliferating digital business landscape, there has been an increase in the demand for SEO services to amplify visibility, generate leads, and increase conversions. But what are the essentials of effective SEO services? In simple words, an SEO service provider should be able to address the following questions:
1. Is There A Concrete Focus On A Comprehensive Keyword Strategy?

Keywords are the foundation of SEO. You can have the best content on earth, but no one will see it without the right keywords in place — primarily because they define the search intent of users. The foundational aspect that sets a remarkable SEO service apart is its commitment to a comprehensive keyword strategy.

This entails accurately spotting the most suitable and powerful keywords within a given niche. These keywords function as virtual paths bridging the gap between potential purchasers and the website and ensuring that the enterprise is a main player in the search engine results.
A concrete focus on an all-inclusive word choice strategy is more than just scattering keywords indiscriminately across a webpage's content. It necessitates a strategic approach that incorporates in-depth research, rival comparison, and full comprehension of the desired audience's search habits.
2. Does The Service Encompass On-Page SEO, Off-Page SEO, And Technical SEO?

The path from lack of search engine visibility to high rankings involves addressing three major parts of SEO. 
On-Page SEO

 deals with refining and streamlining several on-site components involving content, meta tags, headings, and URLs.

Off-Page SEO

 extends past the website itself, which covers processes like link establishment, interactions on social media, and collaborations with influencers.

Technical SEO

 looks at the intricate components enabling search engines to creep, sort, and rank a website efficiently. This constitutes the optimization of website speed, advancing mobile-friendly browsing, and ensuring a secure and simplified visiting experience.
The SEO strategy must constitute a comprehensive plan that integrates on-site finesse, off-site engagement, and technical know-how. This effective amalgamation of these three elements creates a harmonious balance that facilitates a website's rise in search engine rankings.
3. Is There A Strategy For Link-Building?

Link-building, a fundamental component of off-page SEO, is indispensable in establishing a website's prestige and trustworthiness. Search engines regard inbound links from respected sources as validation of a site's value and pertinence. 
SEO professionals are conscious of the necessity of a well-thought-out link-building plan, which, as a matter of fact, is more than just numbers. It implies forming high-class, authoritative links from assorted sources that correspond with the website's niche.
An extensive link-building methodology encapsulates strategies like:

Distributing article submissions on other websites

Liaising with industry leaders

Tying up with related online domains
Building a comprehensive link-building scheme provides an SEO provider the chance to not only upgrade the credibility of a website but also strengthen its visibility on search engine results pages (SERPs).
4. How Is User Experience (UX) Being Weaved In?

An experienced SEO service provider understands the intricate link between SEO and UX — being aware that a website's position in search engine results is very much related to how users interact with the site.
In fact, Google itself stresses user experience via Core Web Vitals.
"Core Web Vitals is a set of metrics that measure real-world user experience for loading performance, interactivity, and visual stability of the page." — Google
To that end, successful implementation of UX requires optimizing website loading times, ensuring mobile adaptability, and arranging data in a way that allows for easy navigation. 
Moreover, it involves finessing such elements as content quality, readability, and user engagement. When an SEO strategy takes UX into perspective, it can maximize user contentment and prolong dwell times by communicating information in a lucid, precise, and visually attractive fashion.
5. Are The Experts Keeping Up With Algorithmic Changes?

Search engine giants such as Google are regularly making alterations to their algorithms in order to guarantee a positive user experience and generate accurate search results. These developments can have a considerable influence on a website's prominence and positioning.  A competent SEO consultant will demonstrate their expertise by quickly changing their ways to concur with these algorithmic modifications.
They will not merely track algorithmic modifications but also possess an expansive understanding of how these shifts affect search rankings. Accordingly, they will adjust strategies to guarantee that the website experiences no repercussions from penalties or minimized visibility due to not adhering to the latest requirements and standards.
Wrapping Up

After adhering to all the above elements, companies can securely move forward through the intricacies of modern SEO and help themselves gain greater online awareness, involvement, and progression.

Connect with us to embark on a journey of enhanced visibility, engagement, and growth through our proven SEO services.