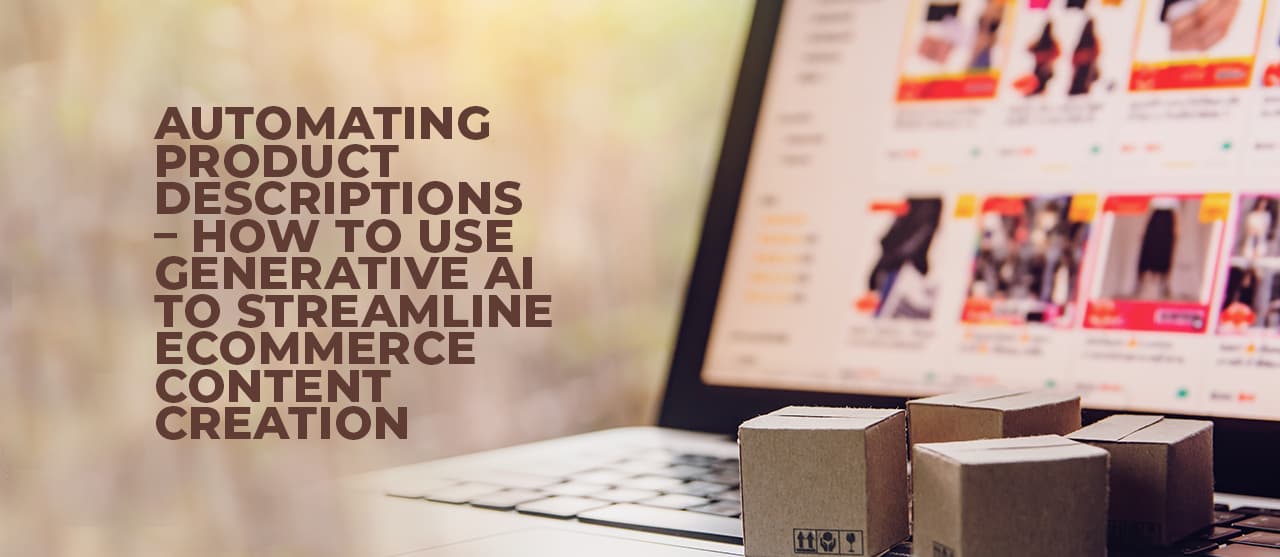 According to research, 87% of eCommerce shoppers rate product descriptions as "very important" in their purchase decisions. However, Baymard Institute outlines that 10% of eCommerce sites have insufficient product descriptions, which do not meet their consumer's needs. Low-quality product descriptions can cause consumers to abandon products and even impact repeat purchases.
eCommerce platforms like Shopify are turning to AI tools to generate product descriptions. For example, in February 2023, Shopify launched its AI tool, Shopify Magic, to help merchants with automatic text generation. But can AI make a difference? How viable are generative AI technologies for automating product descriptions?
Why Are High-Quality Product Descriptions Crucial In The eCommerce Sector?

eCommerce firms can no longer depend solely on competitive pricing and brand reputation to convert or retain their shoppers. User experience is a major influencer in determining business success. High-quality product descriptions are integral to improving user experience and provide a range of business benefits:

Boosting brand visibility on digital channels

Improving conversion rates and sales revenues

Improving the retailer's online presence and SEO ranking

Enabling online shoppers to comprehend and even "visualize" the product and connect with the brand
Effectively, product content can influence the customer's journey across the purchase lifecycle — from product awareness to consideration to final decision-making. To this end, generative AI solutions can help streamline product content creation for eCommerce sites.
Why Should eCommerce Companies Automate Product Descriptions?

20% of failed product purchases occur due to incomplete, misleading, or missing product information. As discussed, online shoppers require complete product information before making an online purchase.
Besides generating better product descriptions, AI-based automation tools can save a lot of time and money for eCommerce brands. Online retailers no longer have to invest a significant amount of time and money in creating high-quality descriptions for every single product. Also, these tools can easily categorize products with precision, thus eliminating any inaccuracies in the product's category and metadata.
Here are some of the added benefits of automating product descriptions using generative AI:
1. Build A Resonant Brand Identity

High-quality product descriptions have a "tone of voice" that resonates with the brand identity. This enables the eCommerce brand to connect with its target audience and establish a relationship of trust and loyalty. 
Generative AI solutions can be trained on vast volumes of product data. This enables them to automatically transform product specifications into "natural" product descriptions that resonate with the brand identity and are in line with the brand's content style guide.
2. Improve SEO

Search Engine Optimization (SEO) is critical for business success in the eCommerce sector. Generative AI tools can be trained to use the right keywords and highlight the right features in the generated product description. 
Further, generative AI helps with the following:

Automating the manual process of generating synonyms for product catalogs, thus saving time and solving scalability-related challenges

Enriching product catalogs and descriptions by analyzing product information, including features, customer reviews, and current market trends

Personalizing product recommendations based on customer interactions, online chats, and user queries
How To Automate The Generation Of Product Descriptions 

Here are some useful tips for creating high-quality product descriptions using generative AI:
1. Understand The Customer's Needs

Foremost, eCommerce brands must understand the "needs and wants" of their customers. This includes understanding:

Customer's pain points or current challenges

Customer's needs based on their online reviews and sentiments

The product benefits that the customer is looking for
2. Focus On The Product Benefits

As a simple rule, product descriptions must focus on the benefits that they provide instead of the list of features. The AI tool must translate a product feature (for example, "shoe soles with extra padding") into a benefit (in this case, "protecting the knees").
3. Deliver A Natural Language Experience

To connect with the target audience, product descriptions must sound "human-like" and not "machine-like." Generative AI tools must deliver descriptions in natural language that sounds "fresh" — as if written by a human.
4. Use Plenty Of Tags

Tags in product content enable search engines to categorize the product and simplify online searches. Product-related tags (including relevant category keywords) enable online shoppers to find the right product in the eCommerce store.
5. Generate Crisp And Scannable Product Descriptions

Finally, AI tools must generate product descriptions that are crisp and easy to scan. These descriptions must include an accurate product title, a short paragraph for a product description, and subheadings for easy scanning. Of course, bulleted points can improve readability, so a mix of both paragraphs and bullets is a good practice to adhere to.
However, despite their multiple benefits, eCommerce brands cannot solely rely on generative AI tools for creating product descriptions. AI-generated product descriptions might struggle to maintain accuracy and relevance. Without any human oversight, AI algorithms can deviate from the expected outcomes.
This is where an eCommerce solution provider like EnFuse can make a difference. 
How Can EnFuse Help You With Engaging Product Descriptions?

With our range of eCommerce services, we enable online retailers to unleash the power of product descriptions. We understand the business value of how good product content can transform customer relationships and engagement. Our SEO-friendly product descriptions enable our customers to improve conversion rates and sales revenue.
Additionally, EnFuse provides data tagging and annotation services to organize your product data for use in AI and ML models. We have a growing team of data annotators and taggers to cater to your scaling business requirements. Let's together streamline your eCommerce content creation process. Contact us to learn more.