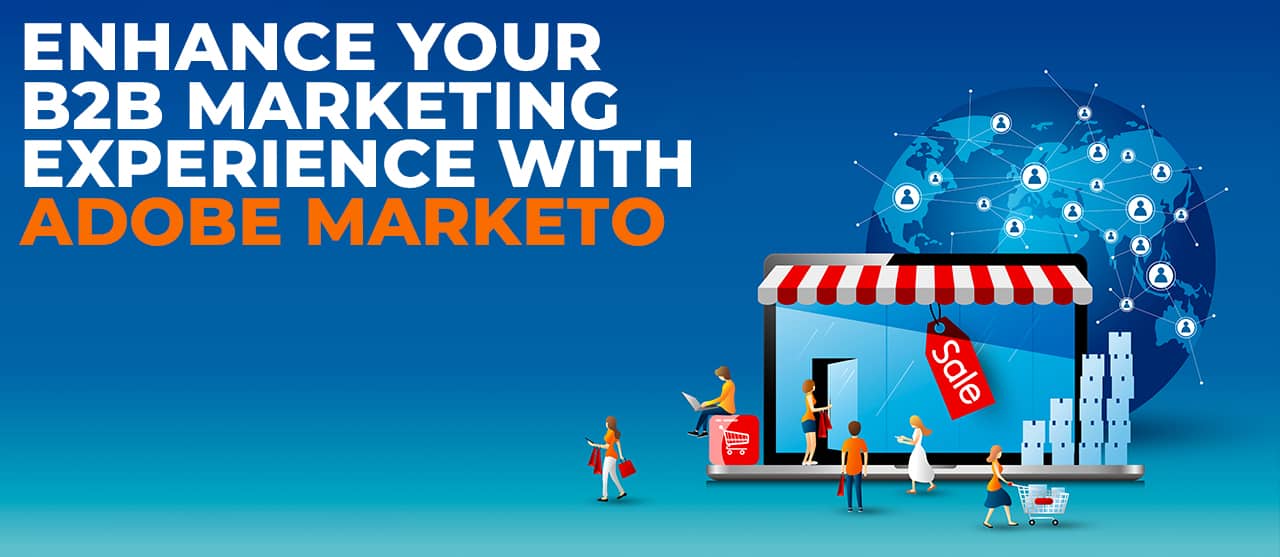 In the U.S., digital advertising touched $616 billion in 2022 and is expected to increase in the coming years. The year 2023 is the pivotal year for B2B marketing in the U.S. and across the globe. Peter Weinberg and Jon Lombardo talk about how B2B is the next "big thing" in digital marketing. According to industry estimates, B2B accounts for half of the global economy.
In its "State of Marketing Automation" report, Adobe highlights the keys to the success of B2B marketing. 98% of B2B marketers believe in the importance of marketing automation for B2B success. An American Marketing Association survey found that 65% of the B2B buyers will comprise millennials and Gen-Zers (or those in the age group of 18-40 years).
To improve their marketing experience, B2B companies are investing in Adobe Marketo Engage as their B2B marketing automation platform. How can this platform transform the B2B marketing experience? Let's discuss this in this blog.
What Is Adobe Marketo Engage?
Also referred to as Marketo Engage or simply Marketo, Adobe Marketo Engage is the world's largest marketing automation platform. This automation platform enables organizations to align their sales and marketing efforts in an integrated mode.
In its September 2022 Magic Quadrant, Gartner listed Adobe as the "leader in B2B automation platform" for the 11th successive year. This was ahead of other players like Salesforce, Oracle, and HubSpot. Using Marketo, organizations can now leverage marketing automation to streamline and measure their marketing activities. This enables them to improve their operational efficiency and grow their revenues.
Here are some reasons why Adobe Marketo is built for B2B marketing success:
Seamless integration with CRM tools

Designed for account-based marketing (or ABM)

Support for customer personalization and segmentation

Effective sales lead management

Support for multi-channel marketing
Next, let's discuss some of the core features of Adobe Marketo that make it popular in B2B companies.
Features Of Adobe Marketo Engage
Adobe Marketo Engage is a complete tool for B2B marketers with its account-based marketing automation features. Marketo has a host of great features that include the Form Editor, a landing page editor, predictive content, and mobile-based marketing.
Here are some of the core features of Marketo that make it an industry leader in B2B marketing automation:
1. Cross-Channel Marketing
In the age of online and offline marketing, Marketo provides customer engagement across various marketing channels. Organizations can connect efficiently with customers by knowing the exact stage of their journey.
2. AI-Driven Predictive Analytics
With its AI capability, Adobe Marketo enables organizations to leverage rich customer behavior data, intelligence, and their journey flows. Apart from personalizing customer experience (CX), the Marketo tool helps in nurturing sales leads and prospects across all channels.
3. Marketing Analytics
With its marketing analytics feature, B2B companies can analyze every piece of CX using effective data insights and reports. With Marketo, companies can connect revenue generation to specific marketing channels, campaigns, and even individual units of online content.
4. Personalized Emails
With the Marketo visual editor tool, B2B companies can now create business emails for any device. They can send personalized emails that are accurate with real-time customer updates (based on their behavior and demography). Using A/B testing, companies can improve personalization through predictive content and triggered emails.
How do these Marketo features benefit B2B companies? Let's discuss that next.
How Adobe Marketo Is Transforming B2B Marketing
According to the Adobe report, 91% of B2B companies are satisfied with AI-powered marketing automation platforms. Here is how Adobe Marketo is driving transformation in B2B marketing:
1. Personalization Across Channels
99% of successful B2B companies use personalization across channels, while 44% of unsuccessful companies lag in personalized services. Marketers in 2023 realize the value of personalized marketing and how it can lead to improved conversions and engagement.
Here is how Adobe Marketo can boost personalized marketing:
Web personalization tool to customize online campaigns and identify new revenue opportunities.

Automating account and lead experiences using relevant triggers and filters.

Leveraging the capabilities of Adobe Sensei to identify the best-performing marketing content.
2. Enabling Cross-Channel Marketing
B2B customer journeys are spanning multiple channels including social media platforms, digital ads, and business emails. In 2023, cross-channel marketing is the latest trend that is driving more customer engagement and interactions.
Here is how Adobe Marketo can enable cross-channel marketing through its centralized hub:
Customize email marketing by designing personalized and responsive emails with content optimized for different screen sizes.

Automate event marketing by sending invitation emails and after-event emails.

Personalizing and sending text messages that are based on customer behavior across channels.
3. Leveraging AI Technology To Improve Marketing Performance
With an AI-enabled marketing automation tool, B2B organizations can implement complex marketing strategies and measure performance.
Here is how Adobe Marketo is leveraging its AI-powered Adobe Sensui tool to improve performance:
Generating predictive content to identify the right marketing content for prospective customers based on their behavioral and demographic data.

Identifying prospects that are more likely to attend a marketing event using predictive analytics.

Using AI to identify accounts that are most likely to engage and convert into loyal customers.
4. Aligning Sales And Marketing Activities
Going ahead in 2023, B2B companies need to align their sales and marketing functions for operational efficiency. By connecting their sales and marketing activities, companies can deliver a cohesive user experience. With closer alignment, they can also improve business decision-making and customer engagement.
Here is how Adobe Marketo can align B2B sales and marketing:
By syncing data with CRM tools, it can provide valuable sales insights to the sales team with marketing-related activities like the rate of email opens, website visits, and mobile app downloads.

Use Sales Connect functionality to provide real-time insights about high-quality leads from both sales and marketing touchpoints.

Leverage the combined power of marketing automation and data analytics to identify high-value accounts and launch personalized campaigns.
Conclusion
2023 is emerging as the pivotal year for B2B marketing. Adobe Marketo is the leading B2B marketing automation tool that is transforming B2B marketing experiences. At EnFuse Solutions, we offer digitized solutions that enable our B2B customers to create unique customer experiences.
Established in 2017, Enfuse solutions provides the full range of managed services and solutions to solve complex business challenges. Do you want to know more about how Adobe Marketo can transform your marketing? If yes, contact us today.