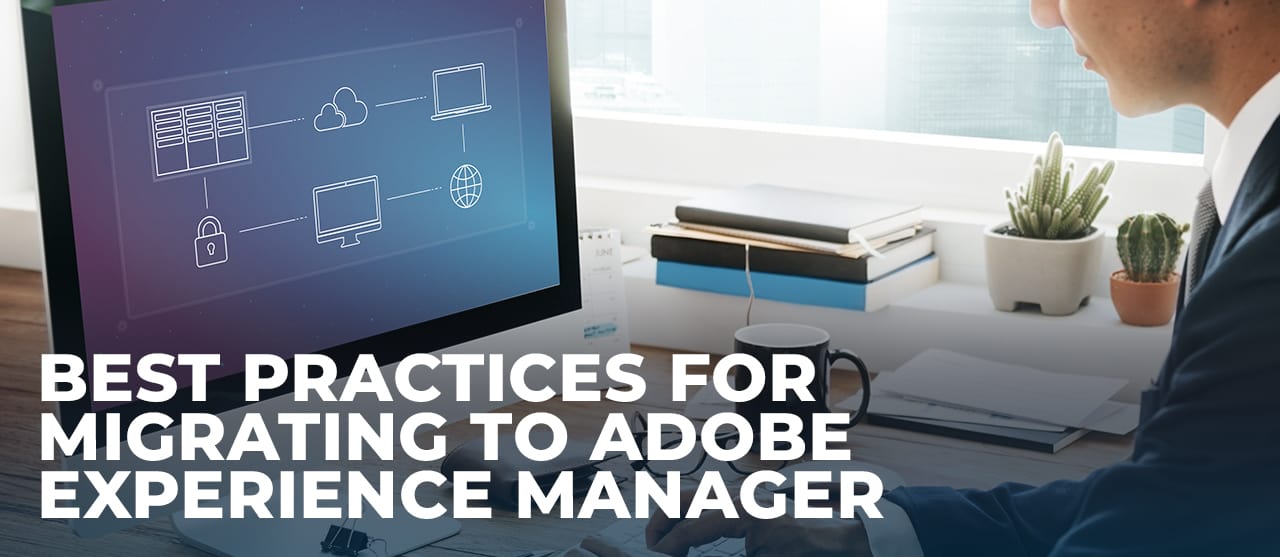 Adobe Experience Manager (AEM) is one of the foremost names in the CMS space today. That said, the journey to AEM is quite a big undertaking for any enterprise. Over the years, a business may build a sizeable web presence with multiple web pages, assets, and content artifacts. Moving all these resources into a new CMS platform requires a strategic approach covering all areas.
Mistakes can be costly because of the visibility the website provides for the brand. A broken experience or failed personalization can drive away potential customers leading to the eventual loss of online business. To ensure that enterprises can derive the best ROI from their migration to AEM, they need to be aware of the best practices to be followed during the migration exercise. Let us examine those.
1. Establish Team Structure
The first step before a migration exercise is to put together the right team for the entire activity. AEM is not just a technology change. It brings in newer possibilities that the business can explore and derive new use cases.
Hence, it is not just technical team members like AEM developers, web developers, database, and infrastructure specialists that need to be on the team but also members from marketing, user experience and design, content strategy, and business management.
By involving all these stakeholders, the true potential of AEM can be explored from multiple aspects. It also helps in better dependency management and ultimately contributes to seamless project management.
2. Prepare A Migration Objective Plan
It is essential to have a clear idea of the objectives the business wishes to realize from the AEM migration exercise. These objectives must be modeled along with other factors into a migration plan.
The plan should include details like the:
Scale of the impact that different business units will experience post-migration

Type of new tools and capabilities like the Adobe Marketing Cloud, which will be used in the organization post the migration.

Other major factors like Master

Data Management

(MDM), the selection of AEM development partner, and site infrastructure management. 
They need to consider macro-operational and customer experience management while factoring in budgets in the plan. A plan with clear visibility into objectives, milestones, and goals will receive favorable attention from the leadership.
3. Do An Extensive Asset Audit
Before the AEM migration, it is critical to conduct an audit of all digital assets that the enterprise currently has. This includes all content assets like images, pictures, videos, documents, etc. The site structure needs to be mapped from a content perspective in the audit phase.
When migration takes place, decision-makers can use the audit report to determine which assets will be moved and where in the new platform. The audit report can be used to rank content according to business priorities, and any irrelevant content pieces can be archived or removed from the new platform. The audit also helps organizations implement a content-freeze or continuous publishing strategy during the migration so that no relevant digital asset goes missing in the transition stage.
4. Foster Good Developer-Designer Relationships
AEM as a platform offers extensive capabilities that businesses can tap into. However, the front-facing website is what engages visitors. Hence it is essential to enable seamless collaboration between AEM developers and user experience designers in a migration exercise.
Any communication gaps can result in slowdowns, inefficiencies, and compromise on user experience-functionality balance. Besides, it is crucial to bring awareness within teams about the need to work together efficiently and remove barriers and dependencies through healthy communication strategies.
5. Never Forget SEO And URL Strategies
SEO is a core part of driving visibility for every content asset an enterprise publishes on its website, irrespective of the CMS used. Hence, the AEM migration exercise must have ample consideration for integrating SEO best practices when deciding on content migration. From structural cohesion of content to discoverability, it is vital to ensure that every relevant content piece is found in the shortest time frame from a search engine query.
URLs hold tremendous importance from both an SEO perspective as well as from a user experience perspective. On the new site, visitors should not be directed to broken pages with missing content when navigating the website. Proper 301 redirects and 410 pages for assets that were not migrated must be provided to ensure a better visitor experience.
The Way Forward
The benefits of AEM migration are numerous, but the road to achieving seamless ROI depends on how well the migration exercise follows best practices. It is natural for enterprises to lack specialty skills and experience in implementing an extensive transition program like an AEM migration.
This is why they need an experienced AEM partner like EnFuse Solutions to build the most sustainable AEM migration roadmap for their unique business requirements. Get in touch with us to know more.