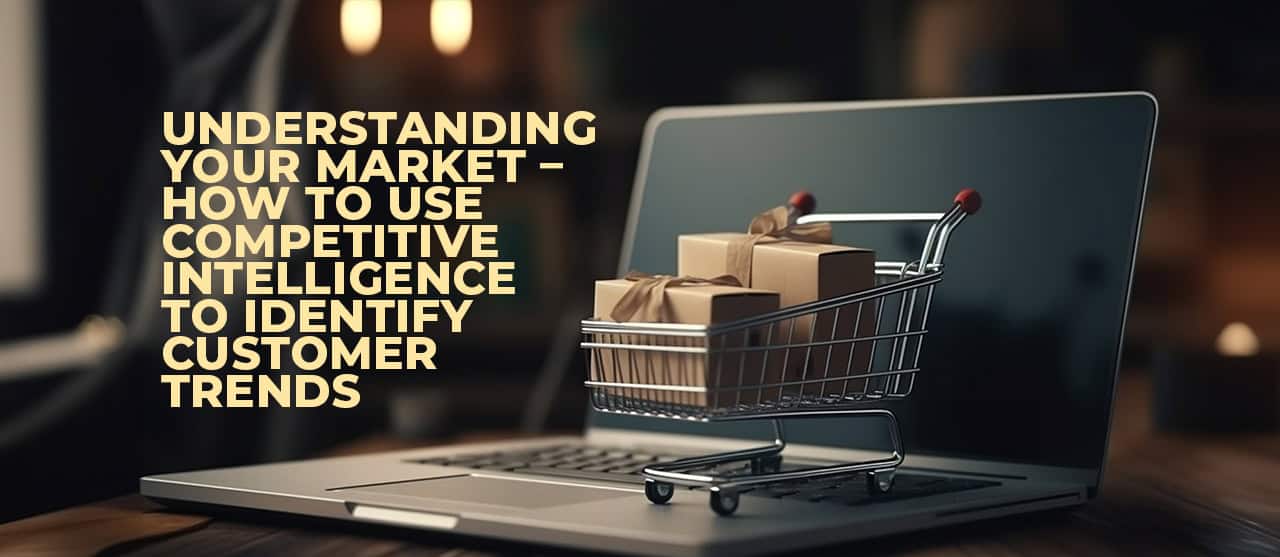 Staying ahead of customer habits is essential for success in today's cut-throat market. While contending on multiple fronts, eCommerce companies must pinpoint the trends that will be significant for their precise industry and must act in an expeditious manner. 
To do this, businesses increasingly leverage Competitive Intelligence (CI) – a method of analysis that provides an invaluable understanding of market trends. Studies reveal that 90% of Fortune 500 Companies already leverage CI to gain a competitive advantage.
CI has been around for quite some time. Businesses can use it to unlock concealed market possibilities and determine what developments are expected to influence the respective sectors. It also grants companies the capacity to exploit emerging market trends and distinguish novel customer demographics.
What Does Competitive Intelligence Bring To The Table?
In essence, CI is the strategic accumulation, scrutiny, and interpretation of publicly available information concerning competitors and the wider market. The objective of CI is to provide decision-makers with a more thorough understanding of their environment.

This is accomplished by recognizing and investigating the merits and drawbacks of the rivals' offerings, approaches, finances, advertising techniques, branding, etc. As such, CI is an integral part of the informational arsenal utilized by enterprises nowadays. It can play an influential role in informing strategic decisions about markets to target, the launch of new products and services, and the investment in resources.
As an example, think of an eCommerce business leveraging CI. With a proper CI framework in place, this business would be able to:
Monitor competitor prices and decide whether certain adjustments are needed to their own pricing strategy.

Narrow down on the product assortment of competitors, identify gaps in it, and ultimately offer a product mix that could attract more demand.

Comprehend the branding, engagement strategies, service launch strategies, etc., of other eCommerce businesses.
Techniques To Utilize Competitive Intelligence
Favorably, businesses can employ several strategies and frameworks to get CI right. Here's a rundown of the ones that work the best:
1. Market Analysis
A comprehensive qualitative and quantitative assessment of prevailing market trends can be conducted through a "market analysis." In the context of CI, market analysis gives eCommerce enterprises a comprehensive understanding of their sector and the trends that underpin it. 
Through a thorough scrutiny of news stories and research data, it is possible to grasp the development of the specific eCommerce ecosystem and discern what the customers prefer. With this newfound acumen, eCommerce businesses can refine service design, strengthen promotional campaigns, and upgrade sales approaches.
2. SWOT Analysis
An analysis of Strengths, Weaknesses, Opportunities, and Threats (SWOT) facilitates a concrete comparison between competitors and one's own business. This methodology effectively evaluates potential market expansion alongside any hardships that may impede commercial advancement.
As an illustration of SWOT analysis, let's consider the case of The Coca-Cola Company:
Strengths:
A whopping 42% share of the global soft drink market

Powerful brand recognition

In-house secret recipes for their soft drinks
Weaknesses:

Hard to keep up with the health industry

Difficulty in changing current positioning
Opportunities:
Very few actual competitors

A substantial opportunity to increase their market share if they adapt to current health standards
Threats:

Companies that are offering healthier alternatives to Coca-Cola

Negative press & media coverage can harm the brand's reputation in the long run
3. Social Media Monitoring
Social media monitoring is a competitive intelligence activity to identify useful trends, behaviors, and opinions about the marketplace. It enables eCommerce businesses to track social network conversations that influence purchase decisions and competitor engagement. It can also be used for brand reputation, competitor marketing, and customer satisfaction monitoring.
For example, when applying social media listening techniques using Twitter's streaming API, you can identify responses to offerings from competitors. This does not necessarily mean you are tracking your competitors' conversations. 
Social media conversations are a great source of information to uncover preferences, needs, attitudes, etc. They also help unearth brands that are preferred by your buyers in the social community.
4. Product Intelligence & Cross Referencing
We discussed market analysis at length above. Product intelligence and cross-referencing are more granular arms of market analysis, for they concentrate through and through on competitor product analysis.
In the eCommerce landscape, products are often the primary determinants of market competition. Hence, it makes sense to:

Run pricing and feature analysis of products offered by competitors

Drill down into customer feedback and reviews

Gauge the performance metrics (reliability, efficiency, etc.) of the products

Identify which products are exceptionally similar

Identify gaps by cross-referencing product portfolios

Learn how product content is distributed across channels
CI Makes The Comprehension Of Shifting Consumer Preferences Easier
With the knowledge gleaned through the process of competitive intelligence, eCommerce ventures can obtain an in-depth comprehension of their target customers' preferences, habits, and actions and adjust their offerings accordingly.
Unifying the conclusions of market-based intelligence with customer polls and surveys can support eCommerce businesses in winning over their customers. Also, CI can help them determine how their customers perceive their competitors' products and services. 
By collecting and scrutinizing facts and figures concerning competitors and the business environment, companies can make enlightened decisions, refine their approaches, and enable growth in the competitive eCommerce market.
Partner with EnFuse today to effectively carry out competitive intelligence and ensure your eCommerce business remains at the forefront of your industry.