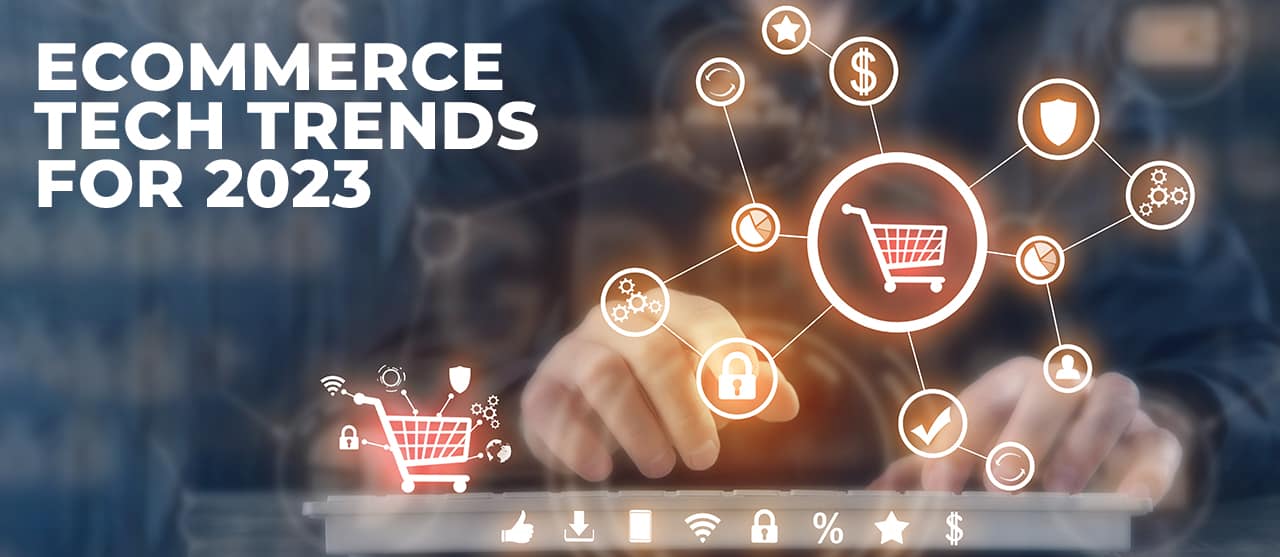 The eCommerce sector is looking at a market worth over $12 trillion by 2027. Spurred by the demand curve of the pandemic, the boom in eCommerce is likely to continue for the longer term. As more players enter the market, eCommerce companies have the one perfect opportunity to make themselves stand out – leverage technology to solve their impending challenges. However, only a few companies have a clear understanding of how their business needs to be tailored to the workflows of modern digital solutions.
Keeping this in mind, let us explore the top eCommerce tech trends for 2023:
1. Delivery-Less eCommerce
As retailers focus on bringing a check on their operating costs for eCommerce, one of the best options at their disposal is to cut down on deliveries and adhere to customers' order pickup expectations. Pickups could either be from the retailer's own physical store or a partnering merchant store or even designated pickup stations that serve multiple eCommerce players in a region. 
From a technology perspective, the focus would be on enabling the right last-mile connectivity option for every order, which means that the system must capture the exact location where the customer intends to pick up their order to assist them in reaching the spot and facilitating a smooth handover experience. Further implications of this option will be uncovered in the next trend below.
2. New Use-Cases For Analytics
Analytics has been a critical component of the eCommerce industry since its inception. From being the foundation of eCommerce's strongest capabilities like recommendations, pricing models, etc., analytics goes a long way in helping online retailers improve their business. In 2023, there will be a plethora of new use cases in areas like security, logistics, regional availability, etc., for which analytics will play a key role in enabling retailers to achieve success. 
For example, taking a cue from the previous point of delivery-less eCommerce, online retailers can leverage analytics to identify products or consumer demographic patterns in areas where self-pickup options are exercised frequently. This will allow them to plan inventory and pricing models that best help make the right products available for quick pickups at a desired customer contact point.
3. Buy Now Pay Later (BNPL) Integration
Large ticket purchases in eCommerce are today often accommodated through the BNPL route by most consumers. In most cases, it provides them with a big relief in the form of repayments as interest-free installments. However, from a technical standpoint, this would mean online stores must incorporate BNPL services into their payment infrastructure.
It could be integrations with direct BNPL service providers or through facilitators like banks and credit card companies. Ultimately BNPL would need a highly secure and credible digital infrastructure to be built to handle a large volume of transactions, and continued relationships post a purchase.
Having to deal with the nuances of credit leveraging by consumers will necessitate online retailers to follow and adopt practices and workflows commonly found in financial institutions. In other words, retailers may have to play the role of banks as well to necessitate sustainable credit leverage for consumers.
4. Social Commerce
In 2023, retail brands are expected to capitalize further on leveraging social media as an effective sales channel. As such, they must arm popular social channels with the right tools to respond to customer queries, integrate their inventory, and facilitate transactional sales without even having to lure customers into their actual online retail website. 
A combination of intelligent, AI-powered chatbots and integrated systems can ensure that social media users can place orders through just a simple chat on the brand's pages. Additionally, they can get queries answered pertaining to delivery timelines, product information, process changes, etc., and get support on products post-delivery and much more.
5. Product Data Management
We have covered several possibilities that eCommerce tech will focus on in 2023. However, the fundamental pillar that supports all of these technologies is the availability of a fail-proof data management initiative within the business. Product data must be captured seamlessly, structured, organized, and formatted to be used as input for different business systems and in collaborative partnerships with social media or partner marketplaces. 
From a technical perspective, product data management requires a holistic and end-to-end automated and managed service that meets the data requirements of each stakeholder in the eCommerce value chain. And with the volume of data that needs management, traditional approaches to automation may need an extra boost. This can be brought about by Artificial Intelligence and Machine Learning.
In A Nutshell
The importance of product data underlines the entire spectrum of technology innovations that eCommerce companies must keep an eye out for in 2023. Gaining seamless and trustful management of data from multiple sources is possible only if the business has access to a sound partner with knowledge of handling very large-scale eCommerce data. 
This is where EnFuse can be a game changer. Our solutions in the eCommerce data space make for a great option in enabling eCommerce companies to help drive better results through better data management. Get in touch with us to know more.