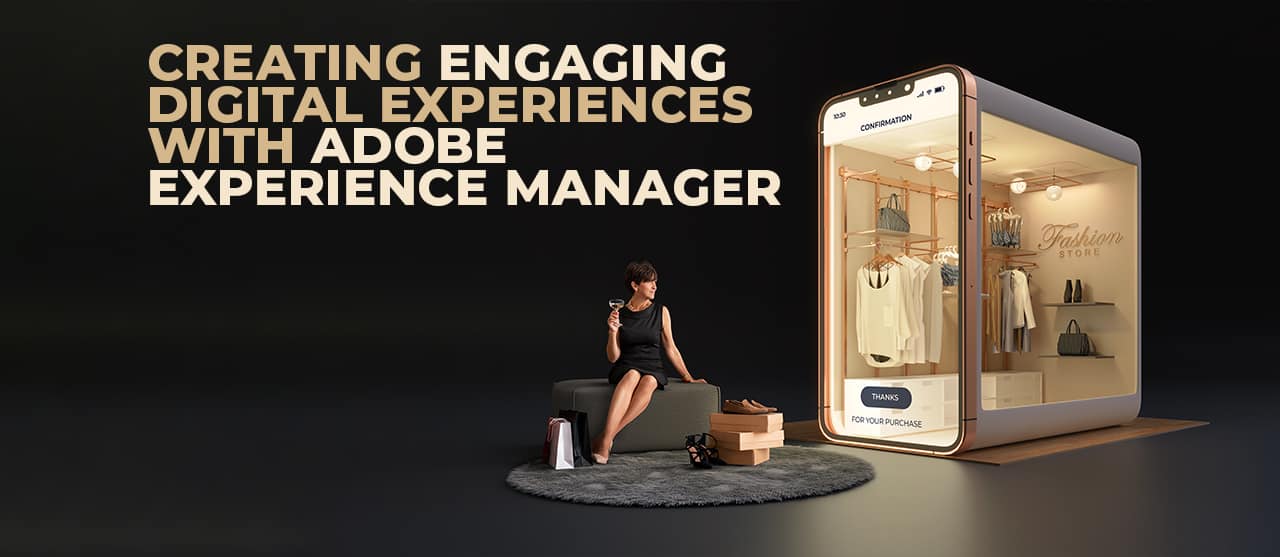 According to Forrester, only 3% of American brands were customer-obsessed in 2022 – a drop of 7% from the previous year. Besides, the quality of digital CX dropped for 19% of brands. However, it's not unknown that every business wants to deliver the best and most consistent digital experience for every potential user or customer.
Favorably, with its content management and digital asset management capabilities, Adobe Experience Manager (AEM) can help businesses in creating an excellent digital experience for users. But before we get into how AEM makes this possible, let's understand the criticality of user experience and why brands must consider mapping their online customers' journey.
Why Is User Experience & Customer Journey Mapping Important?

As outlined by the prominent cognitive scientist Don Norman, a product is much more than a product. It's, in fact, "a cohesive, integrated set of experiences." With an integrated UX, companies can create products that provide a meaningful and relevant experience to their users.
Today, brands look to improve the overall product UX to achieve the following objectives:

Fulfill all their user needs and enhance customer satisfaction

Provide a positive brand experience for every user to bolster brand loyalty

Define and map the customer's journey and their interactions with any product or service

Improve the ROI on product development
According to a 2018 study, two-thirds of CX professionals had already utilized customer journey mapping in their organizations. This practice would be even more common now. 90% of them reported a positive impact, while one-third reported an "extremely positive" impact. 
Through an effective customer journey map, organizations can visually represent how customers interact with their products. This typically includes mapping multiple external and internal touchpoints, including social media platforms, digital ads, landing pages, CTAs, and user registration forms.
Here are some of the business benefits of customer journey mapping in the field of UX design:

Leads to a better digital experience for the users

Enables brands to reach out to a wider audience

Improves the effectiveness of the marketing strategies
Next, let's discuss how Adobe Experience Manager helps in delivering an exceptional user experience.
How Adobe Experience Manager Can Create Engaging Digital Experiences

In its 2023 Magic Quadrant report, Gartner named Adobe as the leader in digital experience platforms for the 6th successive year. As a content management and digital experience tool, AEM allows organizations to create, manage, and deliver content across multiple customer touchpoints.
Organizations can use it to deliver a personalized user experience to engage customers and fulfill their needs. Here are four AEM capabilities that help create an engaging digital experience:
1. Content Management
As a content management system, AEM can optimize individual customer journeys across all touchpoints. Organizations can manage content assets in the form of documents, images, videos, online forms, and more. By using structured brand content across digital channels, it can help in building and delivering a consistent brand message to all customers.
2. Digital Asset Management
AEM can also elevate user experience with its digital asset management (DAM) feature. DAM is a powerful capability for any organization dealing with media files in the form of images, videos, and audio recordings. 
Built using Adobe Cloud technology, AEM enables brands to access digital assets from any location. Additionally, AEM can automatically convert digital media assets (using centralized workflows) to various formats.
3. Digital Enrollments
Digital enrollment is a powerful tool used to embed valuable customer information in an online form. AEM provides an easy, intuitive digital enrollment solution that automatically pulls customer data into online forms, thus streamlining the enrollment process. This capability is also useful for performing quick customer surveys.
4. Cloud Services
As a cloud-enabled service, AEM enables companies to be agile, flexible, and scalable. With the AEM Cloud Service API, organizations can integrate AEM applications and content on the cloud platform. AEM is also part of the Adobe Experience Cloud (AEC) that delivers exceptional digital experiences for customers.
Next, let's look at some of the successful case studies of the Adobe Experience Manager.
Adobe Experience Manager – Case Studies
One successful case study is that of AAA Northeast. Established in the year 1902, this brand has been delivering roadside assistance to over 5.7 million members in Rhode Island. By transforming the digital channels using Adobe Experience Cloud and Manager, the company improved its online renewal rate by 13% and increased new online memberships to 45%.
Among other customer success stories, global manufacturing brand Philips migrated over 1.4 million web pages and 350 users to AEM-based managed services. Using AEM, Adobe Target, and Adobe Analytics, the brand built an innovative and engaging digital marketing platform for facilitating a personalized UX. The result was a 90% reduction in costs.
Joost Van Dun of Philips says that AEM managed services "is a smart solution that enables us to deliver new information and experiences faster, as well as helps ensure that every page a customer visits is true to the Philips brand." With over 250 global websites and 500,000 digital assets, Kao Corporation is using AEM to support its extensive product line.
With the implementation of AEM for the websites, the company improved the speed of updates and localization by 20%, thus improving the overall CX. "Adobe Experience Manager is an excellent solution…the Kanebo global site once relied upon an embedded parent script, but now it's one of our cleanest websites," says Tsuyoshi Tanaka of Kao.
Wrapping Up
As a powerhouse for digital content and assets, Adobe Experience Manager (AEM) is the right tool to deliver personalized user experiences. With an experienced partner like EnFuse Solutions, organizations can implement AEM for a variety of customer needs. We help businesses easily personalize their content and deliver a consistent digital experience to their customers. Contact us today to learn more.