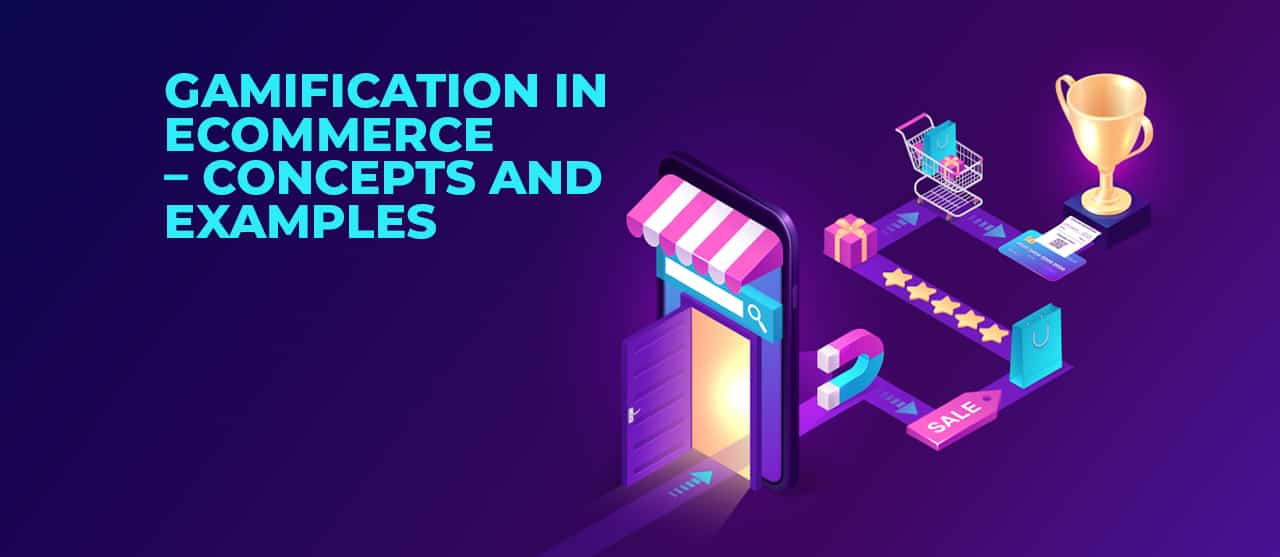 It is estimated that nearly 20.8% of all retail sales globally will happen via eCommerce in 2023. As retailers embrace the reality of having to accommodate trillions of dollars worth of transactions across their online stores, the battle for winning and retaining consumer love will turn fierce with every passing day.

Over the years, eCommerce businesses have dished out billions of dollars in advertising, promotional campaigns, and other attractive discounting offers. They've done so to keep their customer base interested. But, as the global economy experiences a slowdown, they are forced to look at options that keep customers engaged with minimal cash burn. This has led to a growing interest in the concept of gamification in eCommerce.
In simple terms, gamification in the eCommerce domain refers to the use of game-like engagement strategies that reward shoppers for completing contests and activities on the site. These are usually unlocked after purchases or milestones in spending. The key idea behind gamification in eCommerce is to engage and connect buyers emotionally to the offerings given as prizes. 
Let's explore 5 ways in which gamification can unlock a new dimension of consumer experience that can directly impact conversions and revenue streams for online retailers.
1. Instill A Sense Of Pride

The essence of gamification lies in the ability to make shoppers feel that they have worked or put the effort in to win the reward. It is a psychological connection that evokes a sense of pride when using the prize, usually a discount voucher or points, to make purchases on the website. They are more likely to avoid comparing the price of an item on competitor sites and opt to buy jointly with cash and reward points on your website because of the sense of pride they get in enjoying a reward they worked hard to get.
2. Better Campaigns

Some of the most popular themes used to achieve gamification in eCommerce include Spinning the Wheel, Game of Cards, Trivia Quizzes, fun games, etc. These initiatives hook consumers to your online business — usually a mobile app or a website. 
In the final step of the game or contest, a specific product or promotional campaign can be shown to the end user. There is a very high probability of them checking it out and even going further ahead to purchase the offering when the campaign is disguised cleverly under the ambit of games and contests. 
For example, a Spinning the Wheel contest could be run where a specific number of lucky winners get a product for free. At the same time, everyone who participates in the game can be given a promotional discount code as a sure prize for the spin. The code could be a discount for the product or brand that the online store has partnered with for the contest. This method dramatically influences and improves the conversion rates of visitors.
3. Collect User Data

One of the biggest revenue drivers for online stores is their ability to sell goods via recommendations to each visitor. But to do so, they need data and insights about shoppers, especially first-time shoppers for whom there is no reference data about preferences and interests. Using gamification themes, retailers can run theme-based contests that help in collating data about user interests.
For example, shopping-themed trivia can be used to gauge the interests of a potential visitor. They could be incentivized to answer a few questions, such as testing their knowledge about certain products or voting for their favorite colors, price range, etc. The reward or incentive could be a discount coupon for the product or products from the brand or category that the theme was selected. 
Another option is to build a game or contest around a movie theme and run quizzes to collect data. This data could pertain to visitors' favorite characters or moments in the film. This can further be used to build a product recommendation model that best fits their likes.
4. Gain Significant Marketing Traction

Online games and contests often achieve viral status on social media as users flaunt their achievements on their personal social profiles. This further invites more attention from their extended friends and family circle.
This also invites attention from the larger public on social media towards the contest and, subsequently, the online store that ran it. Building a viral game-based marketing campaign can help steamroll the competition in terms of reach. This can reflect very well in sales if the right products are tied to the rewards offered.
5. Power Your Gamification Initiatives With EnFuse

Gamification is a sure-shot strategy that will help online businesses to transition into a much-loved and popular option among customers. However, to build winning strategies, create engaging games, and target the right audience, eCommerce websites need to have the right foundation laid to categorize, standardize and manage their data assets. 
To engage and entice visitors, it's essential to:

Know the right data attributes of products.

Leverage the right catalog of features to build knowledge trivia or games.

Create the right content to be deployed across games, contests, and other marketing channels.
You need to have a solid digital asset management and cataloging initiative implemented alongside your eCommerce ecosystem to achieve such agility. This is where an experienced partner like EnFuse can become your key competitive advantage. Get in touch with us to know more.