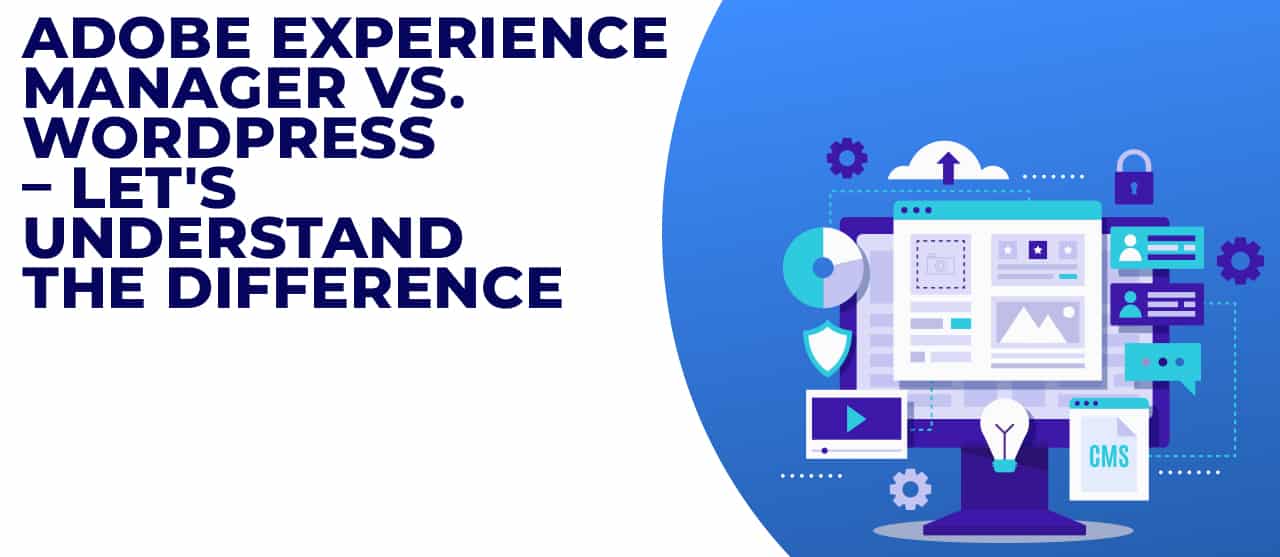 As of 2021, WordPress was powering 39.5% of all websites. That's massive, considering the fact that more than one-third of the sites on the web make use of the WordPress content management system (CMS). Adobe Experience Manager (AEM), on the other hand, has been continually preferred by the world's most popular brands, including Samsung, Nike, Philips, Apple, Walmart, etc.
After all, it's a one-stop digital content solution. Although it is a complex system with a steep learning curve for developers, it is easier to use when familiar with the CMS. But how do these compare to each other? To drive clarity on that, here is a complete guide on WordPress and AEM and how they differ.
Adobe Experience Manager (AEM) & Its Features
Adobe Experience Manager is a content management system (CMS), a digital asset management system, a cloud service, etc., with integrations across the Adobe Experience Cloud. It is an enterprise-level CMS that optimizes content and digital media authoring, management, and delivery.
This management system allows businesses to create unique digital experiences and manage content-specific messages that scale across products, services, organizations, and countries. According to Adobe, with the help of AEM, companies have reported a "3x Return on Investment." Simply put, this tool helps you give the right person a personalized message at the right time. Here are some of its features:
Content Management System: 

AEM allows you to create and manage your digital commerce experience (and content) across all channels with easy-to-use tools.

Digital Asset Management System: 

It allows you to focus mainly on creating a better digital experience for your users instead of searching for assets online. AEM provides smart automation tools that help easily access, retrieve, and use your assets across various channels.

Cloud Service: 

AEM works as an enterprise-grade cloud service that is designed to stay ahead of your customer's expectations. With this software, you can be aware of all the updates, latest tools, and functionalities.

Centralized Dashboard: 

With AEM, you can manage all your projects centrally from the project dashboard. One can access all the information, assets, external links, team information, and tasks in the project. Since this dashboard is available for everyone added to the project, you can add information to specific projects.

Digital Forms: 

AEM helps to build responsive forms that are easy to fill and provide high-end security, making the consumer journey simple.
WordPress & Its Features
WordPress is one of the most popular platforms for creating a website or blog with or without coding. It is an open-source content management system licensed under GPLv2.With WordPress, you can build business websites, eCommerce stores, portfolios, blogs, forums, resumes, membership websites, and more. Some of the most important features of WordPress are:
Website Content Management: 

With WordPress, you can easily manage website content whenever you want. Since the CMS offers an intuitive interface, you can easily log in from any browser and make changes to your website without having to code.

Creation Of Unlimited Pages, Posts, Products & More:

You can easily add images, files, text, links, and embed media on the page's content area. Moreover, you can create unlimited pages, blog posts, and products.

Post Scheduling: 

WordPress allows for

 

scheduling posts at specific dates/times to create content ahead of time. With WordPress, you can create pages and posts and keep them in drafts until they are ready to publish.
Apart from these, you can also restore deleted pages, add additional teammates, add WordPress plugins, drive automatic backups, access a huge library of WordPress themes, and much more.
Adobe Experience Manager Vs. WordPress
Here are the major differences between AEM and WordPress.
1) CMS Features
The Adobe Experience Manager offers powerful and scalable features and functionalities ranging from digital asset management to headless content delivery. These features are catered to the enterprise's needs so that they can better analyze and personalize their content.
On the other hand, WordPress first started off as a blogging platform and is still evolving. WordPress offers over 55,000 free plugins, easy-to-edit themes, and templates, making it easy for non-developers to create a fully-functional website easily.
2) Templates
Page templates are high-level components because they include other components. In AEM, you can create templates that lock components like headers and simultaneously allow you to define areas with flexibility. The two types of templates available in AEM are Article page templates and landing page templates.
On the other hand, in WordPress, a template offers a clear structure for how the content will be displayed. It is also a file generated by the WP theme that can be applied to specific posts or pages to show how a page will look on the website. Notably, the templates in WordPress are different for each theme. However, some templates are easy to customize, while some are rigid.
3) Support & Documentation
Although WordPress does not offer phone support, it has active live chat support and a community full of WordPress experts for help. The WordPress documentation also acts as a knowledge base to answer all (or most) of the questions.
On the other hand, Adobe CMS tops in terms of customer support. Since it is a paid platform, the company offers centralized support to all clients via phone and email.
4) Editing
In AEM, you can easily edit and view each page in different modes like Edit mode, Layout mode, and Preview mode. It also offers an A/B testing mode which helps to create a more personalized experience.
On the other hand, WordPress offers two editing options – Text and Visual. The Visual mode shows how the content will be published, including all the formatting of buttons, font (bold, italic), and more. The Text editing mode shows all the HTML code that controls layout, styles, media resources, etc. However, the only drawback is that this editor can be confusing for those who do not have coding knowledge.
5) Cost
Users can get started on WordPress for free; however, there are premium services they can leverage for more functionality.
On the other hand, Adobe AEM works on a subscription basis and is a closed-source software. Its price is customized and depends on the business and the requirements.
AEM Vs. WordPress (Summing Up The Comparison)
| | | |
| --- | --- | --- |
| Basis | Adobe Experience Manager | WordPress |
| Features | AEM is a content management system that facilitates digital asset management, digital enrollment, forms, etc | WordPress is software that helps create an intuitive website or a blog without any programming experience |
| Editing | AEM will enable you to easily edit and view each page in different modes like Edit mode, layout mode, and preview mode | WordPress offers two editing options – Text and Visual |
| Documentation & Support | Since AEM is a paid solution, it offers stellar customer support | Live chat support but no phone support |
| Pricing | The pricing offered is customized and depends on the business requirements | It's free to get started but one can buy premium services |
In A Nutshell
Both WordPress and AEM are fantastic CMSs with great feature sets. They have different capabilities and cater to different sets of needs. It all boils down to the business's requirements and preferences.
To put it succinctly, AEM is a great enterprise-level CMS offering advanced features, while WordPress acts as a go-to content management system for quick and easy website creation. EnFuse provides strategic digital services as well as valuable insights for successful AEM implementation and post-deployment support. Please contact us right away!